Vehicle history expert Cartell.ie is offering our customers €10 off a Three Star and Two Star vehicle history check when the vehicle you are checking is an Electric Vehicle (EV). Furthermore the discount is applied automatically when you enter the registration number of the vehicle: our system will detect it's an EV and will make available the reduced prices to you. Remember the discount applies only to the Three Star and Two Star options and does not apply to a Finance only check.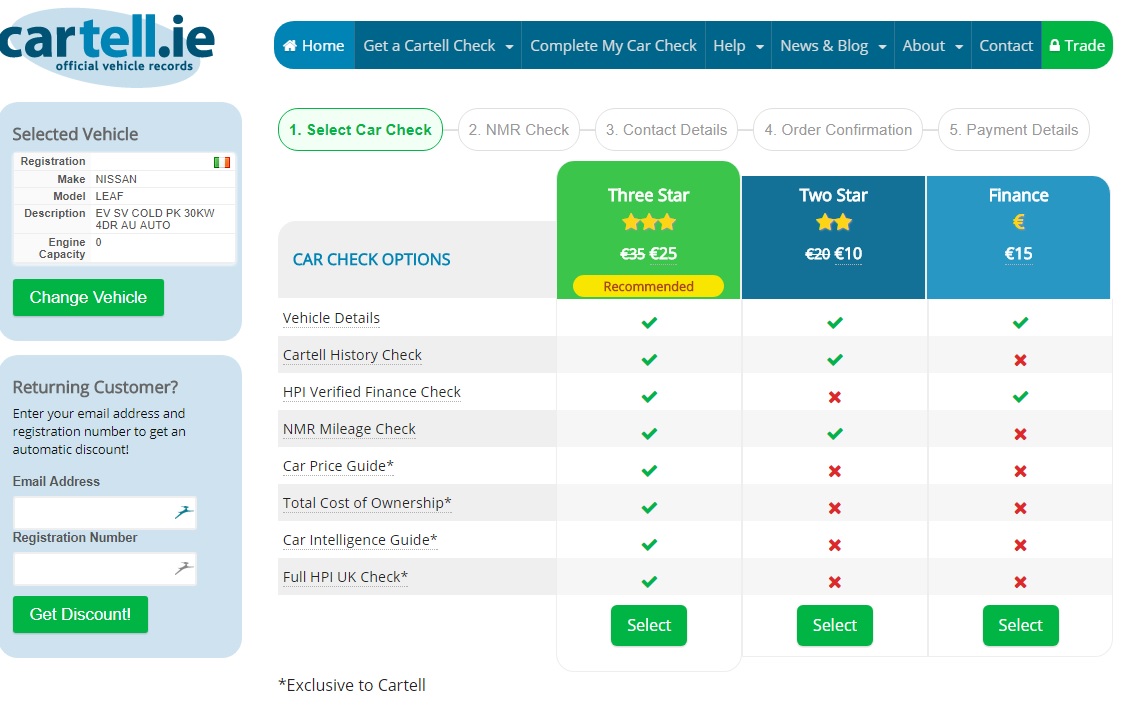 Cartell.ie recently took ownership of a new Nissan Leaf as part of our Green Fleet Programme. The Leaf will join our fleet of vehicles and it enjoys Zero Emissions as it is 100% Electric and has a range of 250Kms on a single charge – it can also be fast-charged to 80% in under 25 minutes. As there is no engine to service this means no issues with timing belt, clutch, gearbox, points or exhaust to replace.
In common with many companies Cartell.ie is concerned to protect our environment for future generations. We are looking to create a positive environmental impact by purchasing a fleet car which affords zero emissions. We also anticipate this vehicle will reduce our running costs significantly- possibly by as much as 82% over a diesel car. The Leaf should also reduce driver fatigue by affording stress-free driving assisted by a silent automatic drivetrain. The Leaf also moderates driver speed.
Cartell also proudly supports Electronomous: Aiming to become the Leading Car Technology Event in Europe over the coming years and in collaboration with global industry leaders Electronomous addresses the Connected Car, Autonomous vehicles, Electric and Hybrid Car models and the technology that will populate the future automotive landscape.