Vehicle History Check Expert Cartell.ie reports on the increase in tyre blow-outs nationwide, according to an article in the Irish Independent. It appears there are two leading factors for this concerning rise: 1/ the conditions of Irish roads are deteriorating, and 2/ vehicle owners are spending less on maintenance as the prevailing economic climate continues to put a strain on household income.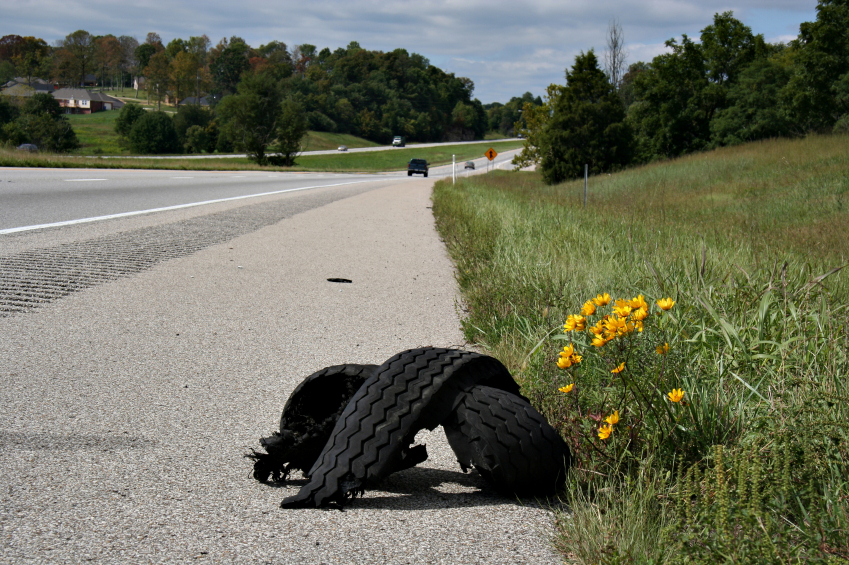 According to the newspaper, rescue services have seen a surge in callouts for tyre blowouts since the start of the month with many motorists driving on tyres "so worn out they were bound to burst".  The AA Rescue Centre said that people were putting off spending money on their cars, which resulted in more than one in 10 experiencing a blowout in the last four years. The deteriorating condition of the road network formed part of the problem, AA spokesman Conor Faughnan said, but the primary reason was that people were not investing in new tyres.
A survey of almost 16,000 motorists showed that more than half regularly come across tyre debris on the roads, with the highest rate in Westmeath. "This may not be much of a surprise considering the county, in the heart of the country, is bisected by two of Ireland's busiest motorways, the M6 from Galway and the M4 from Dublin," Mr Faughnan said. "On the other end of the scale, the least tyre debris is found on roads in Co Donegal.
Coming across debris on the roads can be quite common but if you're driving at 120kmh on a motorway and you strike a large piece of tyre, it can be lethal, said Mr Faughnan.
The surge in calls has arisen since the beginning of the month. "Many things can cause blowouts, such as clipping the pavement when going around corners," he said. "We have, however, seen numerous cases of tyres that were so worn they were bound to burst. For so many, money is tight at the moment and people are putting off spending on their cars but this is a gamble that's not worth the risk."
The condition of the road network may also be contributing, with potholes and uneven roads causing serious damage to cars. An AA survey carried out in March of this year found that 82pc of motorists believed the condition of Irish roads had deteriorated in the last year. The AA urged motorists to maintain their cars.
Check your tyre tread depth and pressure and don't forget rotating your tyres can help them last that bit longer, Mr Faughnan said. When the tread on a tyre is worn down, it is far easier to lose grip with the road, and when the weather is particularly wet, you might find yourself more prone to aquaplaning. Driving on under-inflated tyres is also extremely dangerous. Friction caused by soft tyres puts further pressure on weak points and makes a blowout more likely. "Damage caused by blowouts can be extremely costly but it is becoming more common. We know this because we've seen more car insurance claims as a result of this damage.