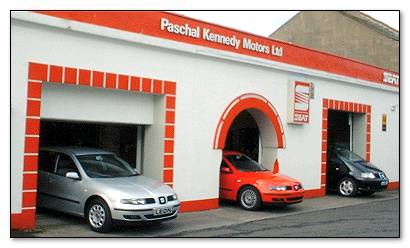 The location of Paschal Kennedy Motors is steeped in history – it has a unique structure and architecture, including a horseshoe shaped entrance, dating from the time the building was used as a forge – up until the beginning of the twentieth century. The premises was first used as a garage in 1925 – named Irish Motors – before James J. Kennedy, father of the firm's current Managing Director, Paschal, and himself a renowned engineer, opened in 1929 the garage which trades today as Paschal Kennedy Motors, Cross Avenue, Dun Laoghaire.
We spoke to David, son of Paschal, about trading conditions for this month's TRADE FOCUS and the first question we asked was: How does this recession compare to the countless others your company has experienced through the years? "One of the roughest" says David, "the biggest problem is the lack of finance, there's less money circulating, but thankfully we're in a descent position because we're supported by VW Finance who offer a super rate – 4.9% APR" (Volkswagen Group own SEAT and the Kennedy family specialize in selling SEAT and Daihatsu vehicles).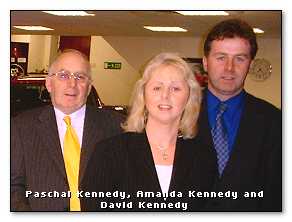 We asked about the profile of the customer he is selling to at the moment. He tells us that generally speaking it's the middle-aged or older customer who arrives on his forecourt these days. The younger generation, by and large, are sadly not appearing for obvious reasons.
We also followed up on a letter which appeared in the motor section of a national newspaper this week asking what type of discount a cash buyer with no trade-in can expect to get? The newspaper editor had suggested €1,000 – so did David agree?
"Well, to be honest the list price of new cars has dropped and that has cut into the dealer margins. The dealers don't have scope to offer big discounts – but all things considered – a figure of about €700 to €800 could be expected – depending on the price of the car  – for a cash buyer with no trade-in." And are Kennedy Motors getting many cash buyers lately? "Sure" he says, "there are quite a few cash buyers coming into us at the moment falling into the middle to older-age brackets".
As regards the scrappage scheme, he is concerned about what lies in wait when it ends in June. "It's propping up the market at the moment. We're getting a lot of ten-year-old cars into us. People are bringing their new car purchases forward to the first half of the year – which is the same as it always was – in many respects  – this year we anticipate 70% of new car sales will take place in the first 6 months – but I'd be concerned for the market when scrappage ends."
So does he agree with the SIMI proposal to split the licensing year in half – similar to the UK? "Sure, I'm in favour of that," he says, "it would balance new car sales across the year, so that would assist trading conditions".
…and Cartell.ie?
"Honestly, I always use Cartell.ie, every single time. It's a brilliant service! I remember one time we had an Audi A4 presented to us as a trade-in – we ran a Cartell check and discovered it was still on finance in the Republic of Ireland. Then we discovered it was an import too and there was a big mileage discrepancy on the UK side! The car was in mint condition – not a mark on it! But we were happy to walk away from that deal! – thanks to Cartell.ie!"
Finally we asked David to recommend a used car in stock to a potential buyer who has – say – 12k to spend.
"Well we have a 08 SEAT Leon 1.4 Sport Plus, black in colour with only 42,000 miles on the clock. One owner too! Would suit a middle-to-younger aged driver." €11, 450