Car Finance Levels Rise
Cartell's latest data can reveal has a significant increase in overall levels of car finance in Ireland for key years. From a sample of over 5,906 vehicles offered for sale and checked via the Cartell.ie website in the first 6 months of 2022, the figures show that a 1-year-old vehicle now has a 32 percent possibility of being on finance, up 4 per cent for the equivalent figure 12 months ago.
Readers will recall that last year the comparable figures showed a decline in car financing level in Ireland, over those recorded in 2020, which we attributed to a slow-down caused by the pandemic. The market is clearly firmly out of this environment and finance levels have risen significantly since July of 2021.
Car FInance Ireland: Older Vehicles
In the case of two-year-old vehicles (2020) the levels of vehicles offered for sale with finance outstanding is 36%. This means there is still more than a one-in-three chance of a two-year-old vehicle being offered for sale with finance outstanding and the overall level has risen from 32% last year.
In the case of four-year-old vehicles checked last year (2017) there was a 20% chance of a vehicle from that year being offered for sale with finance outstanding based on checks on Cartell.ie in the year gone by, but, like other key years the four-year-old-car level of finance has increased – to 22% this year.
Graph 1: Percentages of Vehicles with Outstanding Finance by Registration Year checked on Cartell.ie (Source: Carstat, Cartell.ie)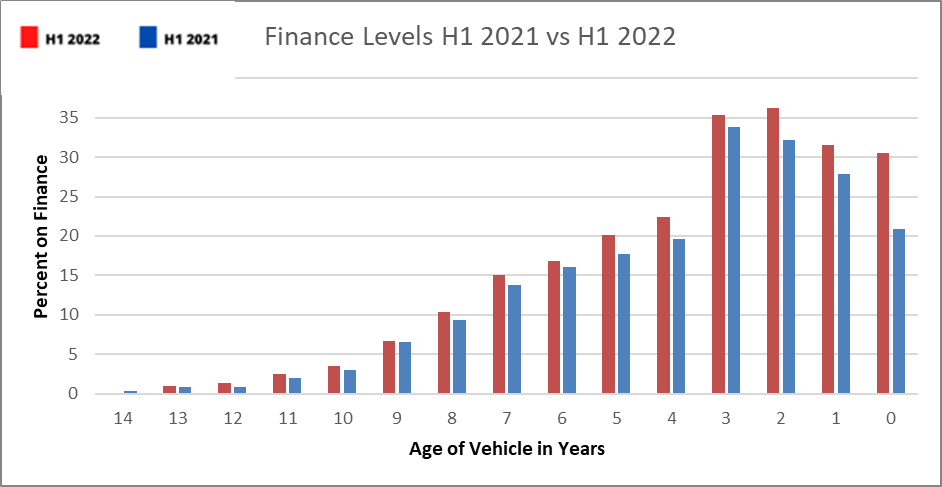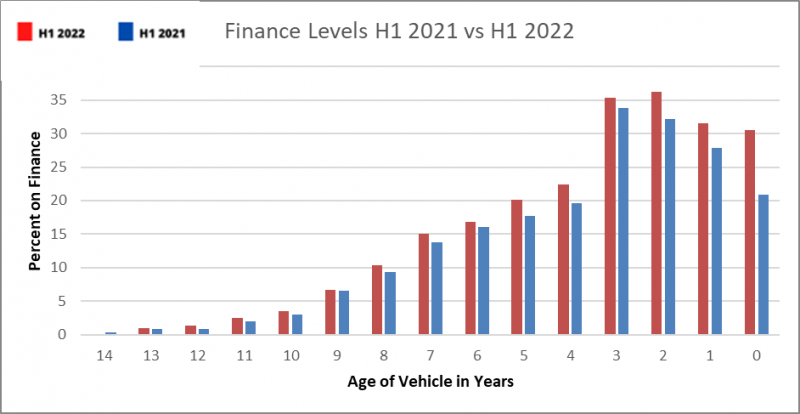 Older vehicles are also showing relatively high levels of finance: a six-year-old vehicle, for example, shows 17% with outstanding finance in 2022 whereas the comparable figure last year, in 2021, was lower – 16%.
Warning On Buying Cars With Finance Owed
Ross Conlon, CEO CarsIreland.ie and Group Director New Business at Mediahuis Ireland, says: "The overall percentages of vehicles offered for sale with finance outstanding in key registration years has risen since the declines we witnessed last year. Buyers should we aware that there is now a one-in-three chance that a vehicle three-years-old or less is for sale with outstanding finance."
"Buyers are strongly advised to be cautious in the market as you cannot take good title in the asset until the final payment has been paid to the financial institution. This means you may be buying a huge problem."
Cartell speculated last year on why there had been a noticeable drop in finance levels when we compared the years 2020 and 2021. The reasonss for the increase seen between 2021 and 2022 is likely due to increased market activity, opening up of markets since the pandemic shut down; also the lack of availability of new cars owing to microchip shortages may have increased car-finance in the residual market.
Cartell.ie is Ireland's first and most comprehensive automotive data supplier providing Car History Checks to consumers and dealers. Launched in 2006, Cartell.ie is the automotive data expert providing tailored vehicle intelligence data to insurers, financiers, parts suppliers, vehicle manufacturers, and all sectors of the automotive industry. We supply data for multiple European countries such as, UK & Ireland, Spain, Portugal, The Netherlands, Malta and more. A three star Cartell car history check provides information on if a car has finance outstanding on it or not.