You asked and thanks to some great research from our friends at CarsIreland.ie we have the answers to your ever-increasing queries about the best value EVs for range available to Irish motorists. All the data tells us sales of EVs are increasing and this trend is only going in one direction.
Therefore it's an exciting time on the electric vehicle market. Mercedes-Benz recently announced that their new EQS will do an astounding 731km on a single charge. Unfortunately the six figure price tag puts it beyond the reach of most people at a whopping €177.83 per kilometre of range but big developments in battery technology are trickling down to more mainstream brands and affordable models. Below we take a look at some of the best value electric vehicle (EV) options on the market when it comes to purchase price and range.
Top 10 Best Value EVs for range in Ireland
10. Kia e-Niro
Starting from: €41,250
WLTP range: 452km
Price per kilometre range (€/Km) €90.65
The Kia e-Niro first burst on to the scene in 2019 promising to bring long range electric motoring to the masses with its 455 kilometre range. Despite its compact crossover label it managed to tempt a huge number of customers into their first EV thanks to its spacious cabin and conventional styling. The Niro is also available as a plug-in hybrid and a facelifted model is due later this year.
9. Kia e-Soul
Starting from: €39,730
WLTP range: 452km
€/Km: €87.89
The Kia e-Soul is the funky older sibling to the e-Niro and despite its rather unconventional look, has managed to secure itself a cult following not just in Ireland but around the world with its practical, boxy shape and deceptively spacious interior. While it does have a slightly smaller boot, the almost identical range and reasonable price tag has made it a popular choice on both the new and used market.
8. Toyota BZ4X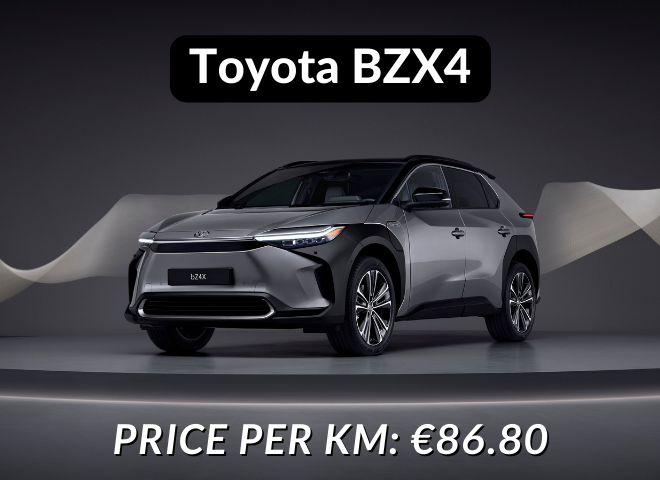 Starting from: €43,402
WLTP range: 500km
€/Km: €86.80
A new contender for 2020, Toyota's first fully electric car promises an incredible range of 500km in the BZ4X. The starting price of €43,402 makes it a good value proposition given the impressive distance it can go on a single charge. Sharing similar dimensions with the Toyota RAV4 SUV, the compact crossover boasts a generous boot capacity of 452 litres. The first orders will arrive in showrooms this June.
7. Peugeot e208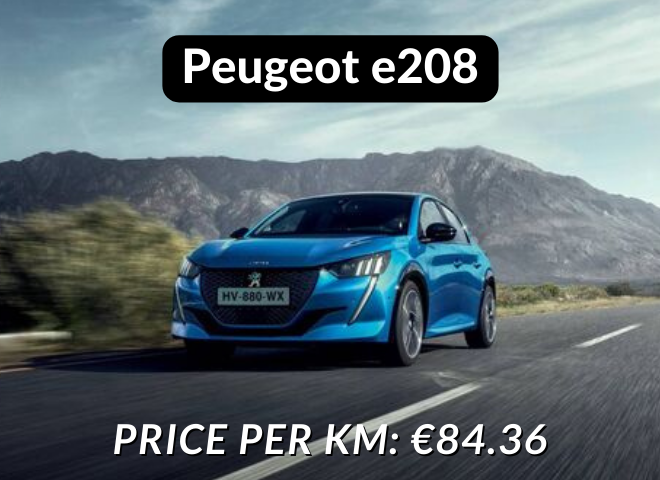 Starting from: €28,730  
WLTP range: 340km
€/Km: €84.50
The Peugeot e-208 is one of the best value electric vehicles currently available in Ireland. With its compact dimensions, the stylish supermini is the perfect choice for the city driver, yet boasts a surprising amount of space in the cabin. More impressive still is the real world range of more than 300km and its ability to charge at faster speeds than many of its rivals. The e-208 is an ideal choice for a first time buyer looking to start their electric journey.
6. Fiat 500e (42kWh)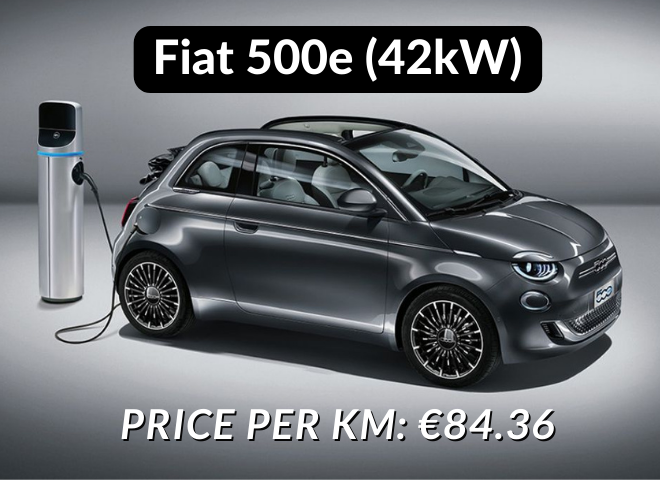 Starting from: €26,995
WLTP range: 320 km
€/Km: €84.36
Fiat have just released an electric version of their iconic 500 city car, and the adorable 500e is not just the cutest, but also one of the cleverest EVs on the road. The lightweight body and neat dimensions allow the larger battery models to achieve up to 320km between charges. While it might not be the most spacious car on the road, there's enough room for two adults to travel quite comfortably with a backseat that is probably more suited to carrying property rather than passengers. The tiny turning circle and finely tuned chassis make it just as good fun to drive as the original.
5. Volkswagen ID.3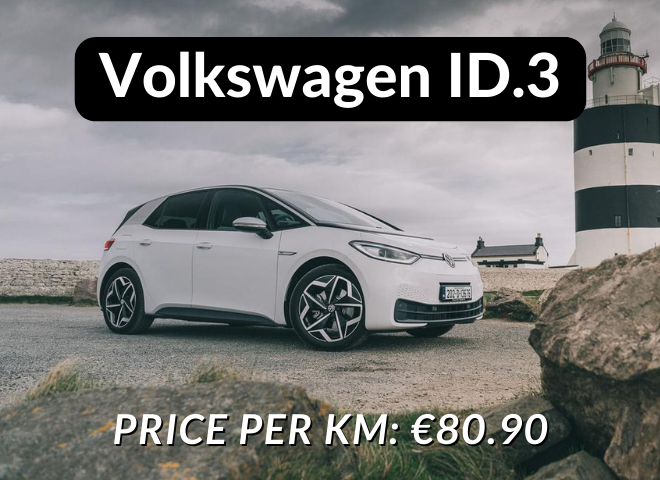 Starting from: €43,687
WLTP range: 540km
€/km: €80.90
Volkswagen almost broke the internet when they released details of their much awaited ID.3, the brand's first purpose-built electric vehicle that looks set to replace the much-loved Golf over the next decade. The futuristic looking hatchback has been a huge success on the Irish market, offering surprisingly good value in its long range version which will to up to 540km between charges thanks to its powerful 77kWh battery.
4. Hyundai Kona Electric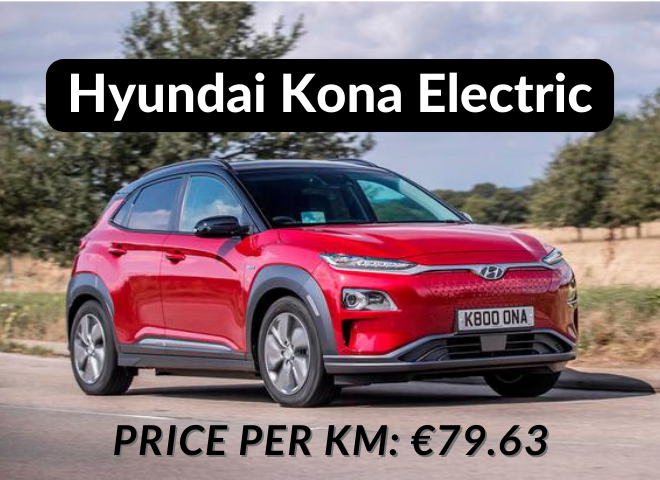 Starting from: €38,000
WLTP range: 484km
€/Km: €78.51
The Hyundai Kona Electric is another car that made long range electric motoring a lot more accessible with a range of more than 400km for less than €40,000. Prior to its arrival, the ability to travel such a distance on a single charge was reserved for the elite few who could afford a Tesla or a Jaguar. The Hyundai Kona Electric has enjoyed huge success since its launch, with some good value second hand models beginning to appear on the second hand market.
3. MG5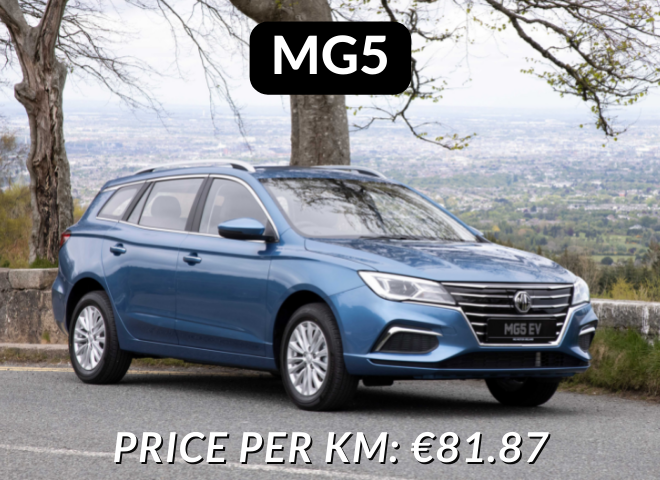 Starting from: €30,645
 WLTP range: 403km
€/Km: €76.04
The MG5 was the first all-electric estate to land on the European market and finally offered a spacious alternative to those who want something other than an SUV. With a boot capacity of 478 litres, it's quite an impressive load lugger and the range of 403km makes it capable of travelling from Dublin to Kerry on a single charge. While the slightly anonymous design might not turn many heads, the generous level of standard equipment and safety features make it a lot of car for the money and in our opinions, one of the most underrated EVs on the market.
2. MG ZS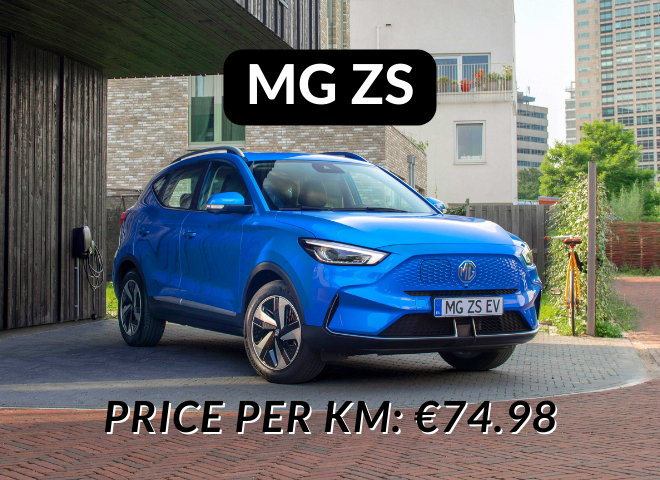 Starting from: €32,995
WLTP range: 440km
€/Km: €74.98
For those old enough to remember, the original MG brand was famous for making sporty little convertibles. It's now back in a very different guise selling only electric or plug-in hybrid vehicles. The MG ZS is one of the most exciting in the range because not only is it fully electric, it's also a decent sized family SUV with a newly improved range of up to 440km and a starting price that makes it the best value family-sized option on the market.
1. Renault Zoe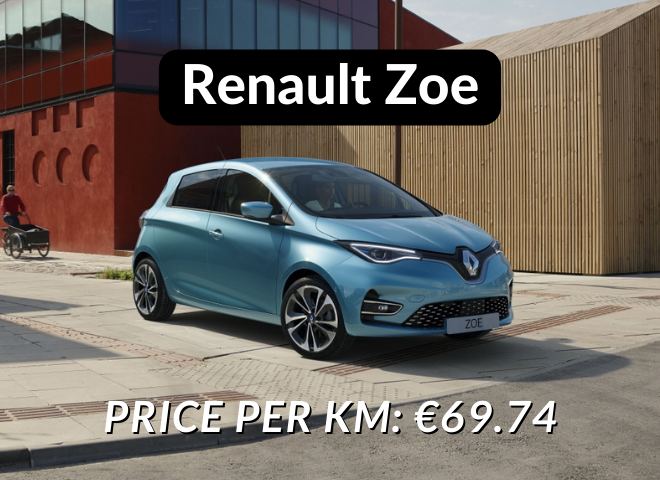 Starting from: €27,550
WLTP range: 395km
€/Km: €69.74
When it comes to which electric car can take you the furthest for your euro – at less than €70 a kilometre, Renault's cheeky little Zoe takes the crown. The quirky little city car is surprisingly roomy inside despite its compact dimensions and is great fun to drive. Around since 2012, the Zoe is a veteran on the EV market at this stage and remains one of the best value options for zero emissions and zero range anxiety motoring. You can find a great selection of both new and used models here on CarsIreland.ie. (Please note that the range on older models will be battery and spec dependent).