PRESS RELEASE
The International Car Tech and Mobility Summit organisers Electronomous and Mobility X report today (April 23) on a sharp consumer shift towards Electric Vehicles (EVs) and a healthy growth in the numbers of hybrid vehicles: EV numbers are up 6 times on last year and the hybrid market has advanced 20 per cent.
In stats provided by Cartell.ie the organisers note that the price-point for hybrid vehicles has risen in the first two months of 2019 compared with previous years indicating a consumer preference towards higher specification vehicles in this corner of the market. The overall numbers of hybrids sold in the first 2 months of 2019 displays a healthy annualised increase of 20 per cent. This growth weighs against the backdrop of a decline in diesel sales – down 23 per cent. Self-charging Hybrids are expected to grow to 12% or 1 in 8 of new cars sold in 2020.

Table 1: Value and units of Hybrid Vehicles sold first two months of the year 2017 to 2019 (Source: Cartell Carstat)
| | | |
| --- | --- | --- |
| Date | Numbers | Average Value |
| 2017-03-01 | 1976 | 31340 |
| 2018-03-01 | 3122 | 31940 |
| 2019-03-01 | 3760 | 34680 |
Electric Vehicles (EVs)
In additional stats provided by Cartell.ie the organisers note that the price-point for the Electric Vehicle has settled just above €33,000. Combined with a growth in the numbers of people buying new cars in this price bracket – where prices are over €30,000 – and the recent consumer trend towards buying an EV the market could be prime for EV sales in 2020/21. This argument applies equally to hybrid vehicles.
The organisers would expect to see very healthy growth in EVs in 2020 – more than 3,000 units for the first 2 months of next year is easily achievable and 5,000 units is not impossible. This anticipates EVs being sold at a value in the low €30,000s and the continuing consumer advance towards buying cars in the €30,000 to €40,000 bracket. As Electronomous expect this to be the most popular bracket for new car sales within the next two years this could yield significant growth in EVs over that period as consumers are faced with a like-for-like choice in terms of price knowing that EVs can yield savings down in the line in terms of running costs.
Table 2: Value and units of Electric Vehicles sold first two months of the year 2017 to 2019 (Source: Cartell Carstat)
| | | |
| --- | --- | --- |
| Date | Units | Average Value |
| 2017-03-01 | 229 | 26261 |
| 2018-03-01 | 174 | 40540 |
| 2019-03-01 | 1045 | 33417 |
One thing that is open to interpretation however is the future market demand outcome – whether demand will move more towards Electric Vehicles or towards their hybrid equivalents. Self-charging Hybrids now make up 7.7 per cent of the car market against 2.2 per cent for EVs. In volume terms, Hybrid growth continues on an equivalent level to EVs.
The advantage with the hybrid is that it is much closer to what the average consumer is already familiar with and it fends off so-called range anxiety. The case for the EV turns more on the additional environmental benefits a car of this type delivers (in terms of its day-to-day performance) and the fact that range anxiety will also become less of an issue as additional battery capacity coming on stream pushes vehicles of this type to deliver more range in the future.
Michael Gaynor, Marketing Director, Toyota Ireland says:
We continue to see consumers make the shift from diesel to self-charging hybrids where 80% of all our car sales in 2019 will be hybrids. Our next generation hybrid engines can now deliver up to 60 per cent zero emissions driving, giving consumers much of the benefit of a pure electrified car without the compromise of re-recharging or range anxiety. It's why we expect self-charging hybrids to account for 12 per cent of private car sales in 2020, growing to 20 per cent by 2021."
ENDS
Editors Notes:
Electronomous is one of Europe's leading AUTOMOTIVE TECHNOLOGY EVENTS. This International Summit brings together World Class speakers, exhibitors and delegates in the field of Electric Vehicles, Connected Car Technology, ADAS, Cyber Security, Autonomous Vehicles and all in the beautiful setting of Killarney, Ireland.
It provides a unique glimpse at how technology will affect the Automotive Industry, Insurance industry, Car Finance Industry, Car Sales and Motoring into the future. It also offers an unprecedented opportunity to Network with Industry leaders and leading experts in the fields mentioned above, while also providing a great platform to create new business relationships.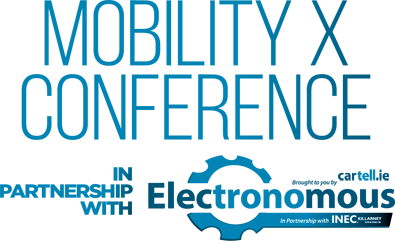 Notes for Editors – The MobilityX VIP Weekend Package 
Kicking off right after the conference, on Friday 3rd at 12pm. Designed for Executives, Policy makers, and Transportation Authorities, this weekend will be a private event designed to help you get to know some of the most innovative executives in the self-driving industry. Places on this event are limited to a small number of VPs, Founders, Investors, CEOs and other invited guests from the Industry. It is an opportunity to get to know some of the best people in the industry, while also relaxing in the beautiful Killarney.
The Summit is taking place May 2nd and May 3rd. 
Tickets for Electronomous are available by logging on to http://www.electronomous.com
For more information on Mobility X see: www.mobilityx.co 
For further media information/press accreditation/images and interview requests please contact:
John Byrne, 087 4199018 or john at cartell.ie
Graph 1: Value of New Vehicles purchased in Ireland by price bracket 2003-2019 (Source: Cartell Carstat)