2.0TFSi Petrol 190Bhp 109g/km CO2 4.8l/100km – 3.0TDi Diesel 272bhp – Drag Co-efficient of 0.23 (Best in Class) -19 Speakers with 755 Watts -2.0 TDI 150bhp 109g/km CO2  3.7l/100km -Up to 120kg lighter
 On the 10th of July 2015, we had the pleasure of driving the new A4. For a refreshing change (instead of the usual sales bump) the day started with the engineers that designed and built the car giving us their experience during the build. Then they gave us the stats and we love stats. But the thing that struck me most was the level of technology the new Audi A4 brings:
Spotify and Pandora and other third party software available on board
Traffic Sign Recognition
LED Matrix lights
Lane Assist
Stop & Go Cruise Control
Collision avoidance assist
Rear cross-traffic assist – Warns you if a car is coming when reversing out of a spot
Exit warning – Stops you opening a door when parked up if car or cyclist is coming
Xenon headlights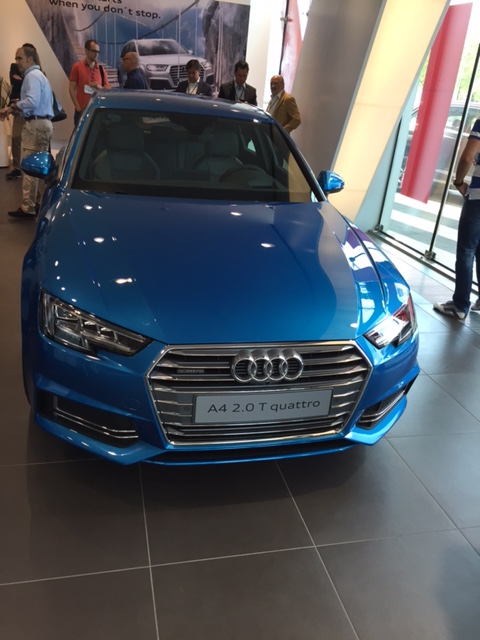 I drove the 2.0TDI 150bhp and the 3.0TDI Quattro 272bhp around a very warm and dry track. You already know which one is my favourite so I don't need to elaborate too much- but the Quattro outgunned the front wheeled drive 150bhp. I pushed it and it was very forgiving of my awful driving and gripped to the tarmac extremely well at speed.
As you know Cartell.ie have a new price guide and Audi wondered what we thought of future value. In other words will it hold value? Well as you can see from the graph below Audi currently dominates the D Premium segment. The car is capable of continuing high sales. Some 46,500 drivers already see real value in the A4 and one of our team here posted a used vehicle snapshot earlier this year which showed the Audi A4 is proving particularly popular with car buyers at the moment.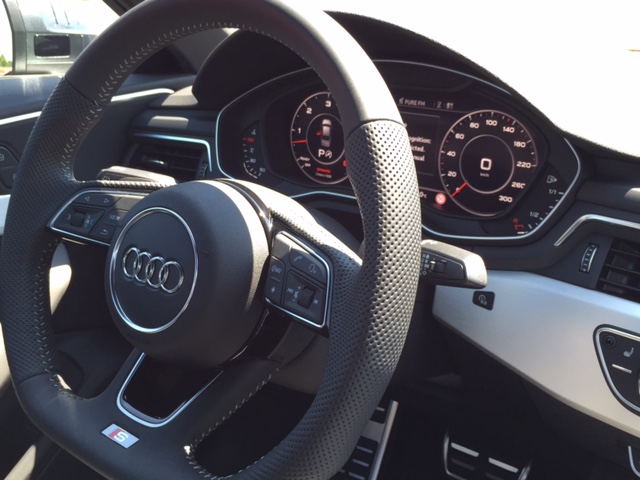 The biggest prediction I want to make here is that I believe if you opt for the Petrol, you will be pleasantly surprised at the future value. I don't believe people need to be afraid of petrol cars anymore. The EU will probably bring in some pollution laws against diesel due to particulates. Petrol cars now are approaching the level of efficiency of diesels. This A4 2.0 litre petrol is only 1 l/100km behind the standard 150bhp diesel yet has 40 more bhp and a great CO2. This is due to the use of proven turbo technology being applied to petrol cars. So as long as the petrol is near enough in price or cheaper than the diesel then it could be a good buy. Either way I predict greater sales of the petrol model than in previous years. There could also be a hybrid on the way too. Oh and it's a bigger car too – I felt like I was sitting in an A6!
Graph 1: D Premium Segment (Source: Cartell.ie Carstat)