Updated: This blog has been updated 7th May 2015 to mention Road Traffic (Traffic and Parking) (Car Clubs and Electrically Powered Vehicles) Regulations 2014

Vehicle history check expert CARTELL.IE last hit the subject of Electric Vehicle's (EVs) in March when we reported on a tweet by Elon Musk that he was "about to end range anxiety". We learned subsequently that Musk, owner of pioneering EV company Tesla Motors, launched a  "range assurance" application which – according to him – will make it impossible to run out of range with the Tesla Model S unless "you do so intentionally."
Last month, Carlos Ghosn, CEO of Renault, says sales of EVs internationally are growing but not as fast as they would like and he attributes this to market concerns over price of the cars, charging infrastructure, and more autonomy for the driver. He still believes this is the technology of the future, but, interestingly, he anticipates growth will be "slow and steady".
"Slow and steady" is a far cry from what the Irish Government wants. We've set a target to have 230,000 electric vehicles in Ireland by 2020 – ambitious considering how long it has taken us to hit the 10,000-mark. In August it was reported that Minister for Agriculture, Food, the Marine and Defence Simon Coveney was trialling a 100% electric car – a Nissan LEAF – with an accompanying Drive4Zero initiative which aims to promote the use of electric vehicles in Ireland using Cork as a pilot area.
"Polar Energy Rush"
The EV first came to prominence as a response to environmental concerns about the impact of fossil fuels on the planet. Fossil fuels, a finite resource, are seen as environmentally unkind and the internal combustion engine consequently came under attack – first by those concerned for the environment and then by the Government response which pinned motor taxation rates to CO2 emissions. The market response, initially, was to opt for lower-CO2-producing diesel engines but petrol engines have since put themselves in position for a come-back (as Cartell.ie and Completecar.ie reported to market in 2013), Ironically, diesel is now seen as more polluting owing to diesel particulate emissions – itself a major cause of environmental distress.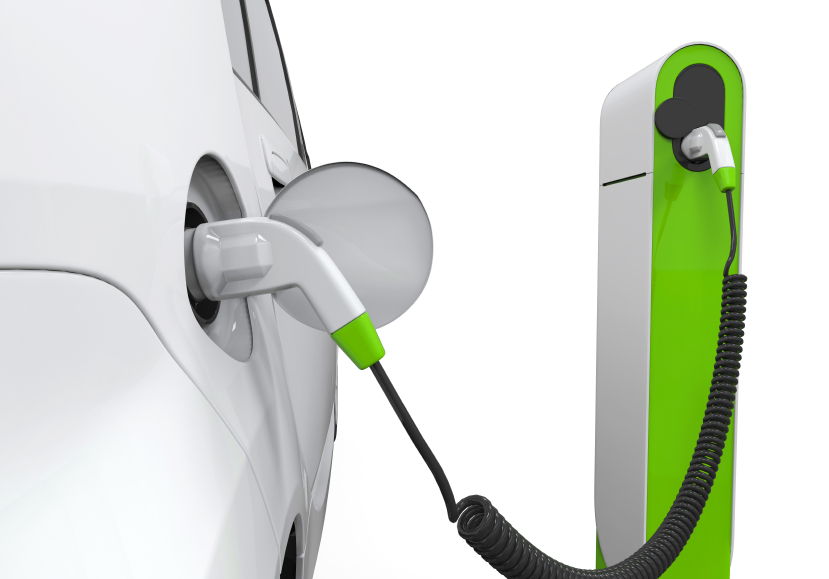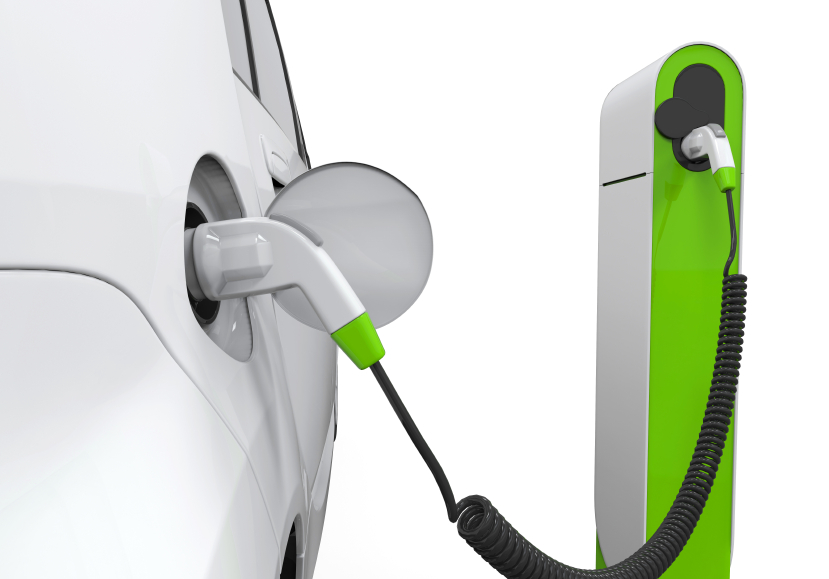 Another, ironic, twist in the tale is that global warming, which many argue has been partly caused by international use of the internal combustion engine has caused ice to melt in the Arctic which in turn has opened up previously uncharted territory for oil exploration – the so-called "polar energy rush". Many environmentalists will argue this creates a worrying cycle.
China: New Money leads to rise of EV
China is now seen by many as the market pioneer in this area. Crippled with pollution – and importing 50% of its oil to cope with demand at the rate of 2.25 million barrels a day – China sought to take action and the Chinese market, where the upper-middle class segment could expand to 54% of the market by 2022, now has the resources to buy EVs. Michael Nguyen reports:
China set a goal to cut carbon emissions per unit of economic growth by more than 4 percent [in 2014] and more than 3.5 percent in 2015 as it tries to meet a binding 17-percent target set in its 2011-2015 five-year plan. Along with the pollution reduction plan, China is taking significant steps to manifest itself as the world leader in green technology. In 2009, the government set targets for pure electric and hybrid electric vehicles of 500,000 by 2015 and 5 million by 2020. It launched "ten cities, thousand vehicles" program, planned for ten cities to develop 1,000 electric vehicles each. The list of pilot cities had expanded to 25 in 2011. By Q1 [2014], a total of 40 cities have joined."
Norway: the first of the Early Adopters
"The Norwegian fleet of electric cars is the largest per capita in the world" says Oda Sletnes, the president of the European Free Trade Authority (EFTA) upon announcing yesterday that Norway's zero VAT rating for electric cars is valid until the end of 2017 and has been approved by that Authority. "In 2014, 12.5 percent of new registrations in Norway were electric cars, compared to only 0.3 percent in the EU."
As of March 2015, a total of 52,865 plug-in electric vehicles were registered in Norway, consisting of 49,296 all-electric passenger and light-duty vehicles, and 3,569 plug-in hybrids. The milestone of 50,000 pure electric vehicles on Norwegian roads was reached by late April 2015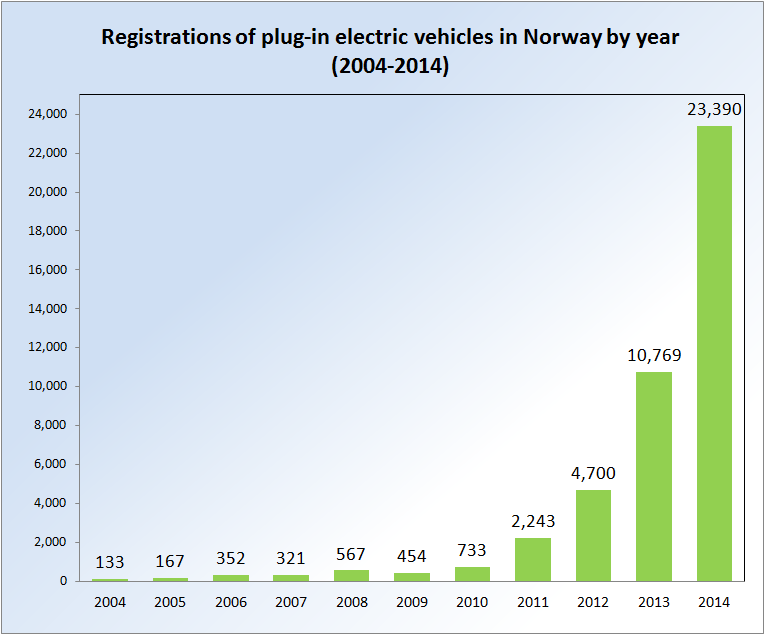 So why has Norway embraced the electric vehicle?  Firstly, the purchase cost is competitive. Electric vehicles are exempt from VAT and purchase tax and this makes the cost about the same as a similar traditional car. But, there are other reasons too, an electric vehicle can drive for free through all toll plazas in Norway, drive in bus lanes, and park and charge for free at public parking. Some of these incentives will sound familiar: Ireland affords VRT relief for electric vehicles and grants are available through the Sustainable Energy Authority of Ireland. There are charging points available in public parking spaces in Ireland too and recently ESB announced the implementation of new rules which makes it an offence for a non-EV to stop or park in a space designated by a local authority as an Electrically Powered Vehicle Recharging Bay or for an EV to stop or park in that space if its battery is not being recharged. (S.I. No. 325/2014 – Road Traffic (Traffic and Parking) (Car Clubs and Electrically Powered Vehicles) Regulations 2014).
Conclusion
So, since we last looked at EVs last  year there have been some developments in the market place. The rise of the EV in China is a dynamic story in a country where the EV may be an ideal fit to deal with a sprawling pollution problem in major urban centres. News yesterday that the EFTA have approved the 0% VAT rate on EVs in Norway shows inter-state-administrators are prepared to assist Governments to promote their use.
Technological developments, such as Elon Musk's range assurance application, are continuing a-pace and these will be needed to catch the public's imagination. News that Apple will enter the EV market as they look to diversify their products is interesting and Bloomberg reports that they plan to enter the market aggressively. Google like-wise appears interested in entering the EV market as do Virgin on the back of soundings by Richard Branson last month. Branson made the comment to CNN's Rachel Crane during an electric car race in Miami in which Branson's Virgin Racing was competing. These big global players can only have a positive effect on take-up for EVs and consumer sentiment is likely to up-tick over time.