New Audi 367bhp RS3 to hit show rooms in September
Power: 367 bhp – Acceleration: 0-60 4.3s – Top Speed: 280 km/h – Litres: 2.5
Yes those statistics are correct. If you are a tree hugger then stop reading now! On the 10th of July Audi kindly lined up a fleet of new RS3's for a blast on a test track in Munich. It would remind you of the start line of a race track. The engines were running in order to let them heat up before they were ruthlessly punished around the track. However normally, the RS3 consumes just 8.1 litres of fuel per 100 kilometres with CO2 emissions of 189 grams per kilometre, leading to an annual road tax of €750 (Like that matters in this car…..)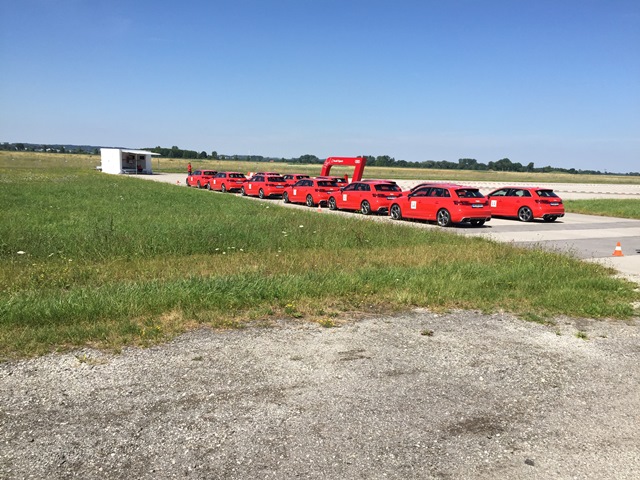 The instructor on the day told anyone with travel sickness that perhaps this wasn't for them. It was fine when in the driving seat but it took 3 laps to understand why as a passenger. The track is designed with lots of corners and only a few straights to ensure the grip and power were tested. We made sure that we had the sport mode on. Truth be known, I did feel a little dizzy and was sorry I ate 30 minutes before hand. In fact there should be a sticker right beside where the air bag warning is in the front passenger seat that says "food should not be consumed 30 mins before driving". That's how good this car is.
A seven-speed S tronic, which shifts even faster than the previous model, directs the power of the 2.5 TFSI to the quattro permanent all-wheel drive system. The quattro system features torque vectoring based on intelligent software and is designed through-and-through for maximum driving enjoyment. The all-new Audi RS3 Sportback steers directly into corners. On low-friction road surfaces, drivers can even perform controlled drifts, if desired.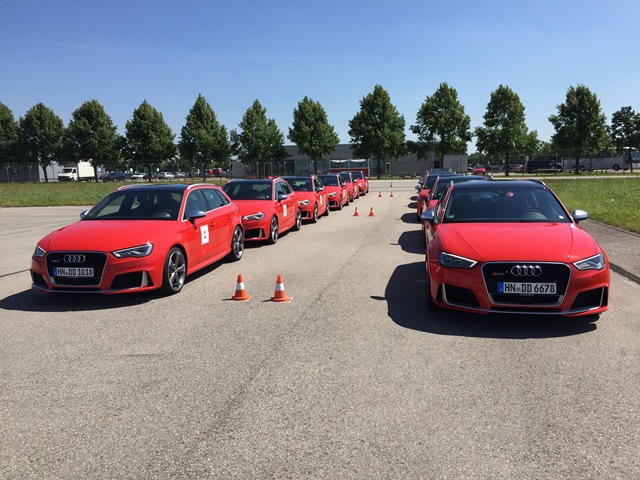 Compared with the Audi A3 Sportback, the body is 25 millimetres lower. The pivot bearings of the front axle, the progressive steering, the RS-specific sport suspension and optional Audi magnetic ride adaptive damper control are designed specifically for the RS.
Customers can choose from a palette of eight paint finishes to either accentuate or subtly play down the purposeful look – it includes the two new shades, Nardo grey and Catalunya red, metallic, the latter available exclusively for the RS 3 Sportback.
Audi Ireland has announced that the all-new Audi RS3 will launch in early September, with a starting price of €66,750 OTR. Order books are now open. I am not sure how many will be sold but it would be great to see them on the road here and if you want exclusivity then this might be the car for you. Just remember to lock the gates or put a removable bollard down at night, you might sleep better. Poles can be purchased Southside Motor Factors http://www.smf.ie/