The CSO published new car sales figures for the year to date. The headline figure says things are getting better: private new car sales are up 9.5 per cent over May last year and they are up 27.4 per cent overall in the year-to-date. Things on the commercial front are improving also with new goods vehicle sales up 34.1% over May 2013 – although this was from a low base. Still, overall, the outlook is positive and while many of us expect June to be relatively quiet the "142" registration plate in July will almost certainly further improve the overall picture for the year.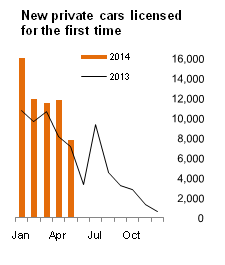 Last year Cartell noted the high age of the commercial fleet. We published a Press Release to market which noted that the fleet average age for commercials was as high as 9.28 years  and that the recession had hit the commercial fleet hard.  We noted at the time that this created an obvious road safety issue also. While things are improving (there have been 7,679 new goods vehicles registered in the year-to-date – up 43.5 per cent) we are no where near pre-recession levels and it will be a while before we can see whether green shoots are really emerging in the commercial sector on the basis of commercial vehicle sales.
Overall though the picture is much improved over last year and appetite for purchasing "big-ticket" items in light of news published elsewhere that consumer sentiment has dipped markedly is an interesting development. In October 2013 Cartell predicted that 2014 may be a bumper year for new car sales. This was based on our extensive analysis of the market which concluded that there was an overhang of 42,000 vehicles – vehicles which would ordinarily have been traded upwards if the economic climate was right in 2014.