PRESS RELEASE
Age of 400,000 Commercial Fleet Soars
Used Car History Check expert Cartell.ie reports today (April 23) that the average age of a commercial vehicle in Ireland stands at 9.28 years – 1 year more than the average age for a private vehicle in Ireland. The average age of a commercial vehicle has increased by ½ of one year in the last 12 months. Currently there are 400,000 commercial vehicles in the Irish fleet. As the impact of the recession takes its toll companies are struggling to re-fresh fleets and instead are leaving older vehicles on the road. This has an obvious road-safety element. Cartell is delighted that the Government, recognizing the issues in the commercial sector, has designated the Road Safety Authority to oversee commercial vehicle testing on a day-to-day basis and has also released Commercial Vehicle Roadworthiness Certificate (CVR) information to the public for the first time which will allow people to check official roadworthiness of these vehicles before they buy.
Graph shows impact of recession on Commercial Fleet numbers
Cartell today also shows the impact of the recession on commercial fleet numbers. There has been a dramatic fall off in the numbers of vehicles registered to the commercial fleet since the recession took hold. The graph below shows commercial registrations of 2009 vehicles were a mere 31 per cent of 2008 registrations – a highly significant drop. Commercial numbers have not regained any kind of foothold since then.
Commenting on the figures Cartell Director Jeff Aherne says: "Clearly companies are finding the going tough. As the fleet ages it is now more important that commercial vehicle buyers check the history before they buy. From April 2013 Cartell.ie can check if a vehicle has a current CVR Cert and we would discourage anyone from buying a vehicle without one."
GRAPH: 2013 COMMERCIAL VEHICLE NUMBERS IN REPUBLIC OF IRELAND BY REGISTRATION YEAR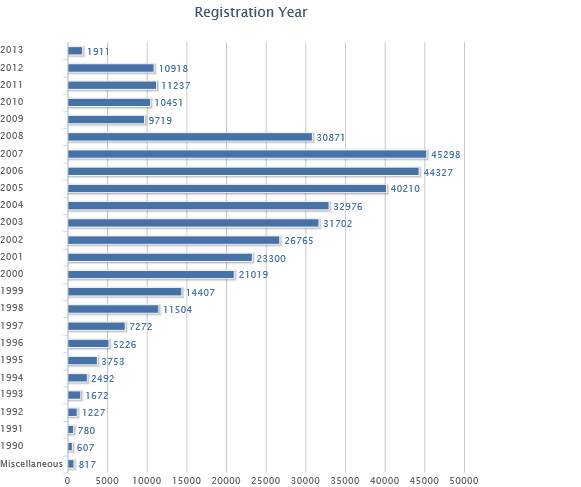 (Source: Cartell.ie)
Most popular Commercial Models
Cartell also reports today on the most popular commercial vehicles currently in the Republic of Ireland commercial fleet:
| | |
| --- | --- |
| Make and Model | Numbers |
| Ford TRANSIT | 49344 |
| Toyota LANDCRUISER | 24533 |
| Volkswagen CADDY | 21024 |
| Citroen BERLINGO | 19399 |
| Mitsubishi PAJERO | 13681 |
ENDS
Note to Editor
Aside from the introduction of the CVR the Government has also cleaned-up the commercial sector in other ways. The Road Safety Authority is now responsible, for the first time, for a range of issues including: Authorisation of CVR Test Operators &∓ CVR Testers; Supervision of CVR Test Operators & CVR Testers; CVR Test Operator & Tester Training.
About Cartell.ie
Cartell.ie was set up in 2006 to help buyers make an informed choice when buying a used vehicle – including imported vehicles – by providing a user-friendly and cost-effective vehicle data checking service. Cartell.ie is a totally independent company and fully Irish owned.
For further information please contact John Byrne on 087 4199018 or at john@cartell.ie or check out www.cartell.ie for further information.
∓