PRESS RELEASE
2014 MAY BE BUMPER YEAR FOR CAR SALES
Research Points to Two-Tier Auto Market
Car History Check expert Cartell.ie reports today (02 October 2013) that 2014 may be a bumper year for new vehicle sales given the right incentives – due to an overhang of 42,000 vehicles which ordinarily would have traded-up in a pre-recessionary market environment.
In the biggest research sample of its kind Cartell.ie reports the recession has created a two-tier automotive market in Ireland:
1/ Vehicles purchased on or after 2009 (post-2009 vehicles) are changing hands at the rate ordinarily expected of motor vehicles in Ireland – where a first owner sells the vehicle between 3 to 5 years generally due to auto-finance terms.
2/ Vehicles registered between 2005 and 2008 (pre-2009 vehicles) are not changing hands as owners hold these vehicles longer. This is therefore increasing the average age of the fleet in Ireland and lowering the average number of owners for vehicles in these registration years.
Cartell.ie reports that owners of pre-2009 vehicles are finding it increasingly difficult to offload their vehicle and re-enter the market for a newer vehicle. This result is based on analysis of market transaction and ownership figures for used vehicles in Ireland. The company found that 34% of all indigenous 2008 vehicles (i.e. vehicles first registered in Ireland excluding imports) are still on their first owner. This is higher than the comparable figure for 2009 vehicles, which stands at 31%.
Simi "Swappage" Scheme – potential impact on market
The results of the Cartell.ie analysis show the market is ripe for the introduction of a VRT swappage scheme, or an equivalent scheme, as owners of pre-2009 vehicles struggle to purchase a new car. Cartell.ie welcomes the proposal to introduce a vehicle "swappage" incentive to market. A swappage scheme, whereby a VRT rebate of up to €2,000 would be given to the purchaser of a new vehicle where a vehicle 6-years or older is traded, would encourage owners of pre-2009 vehicles to trade-in their vehicles next year – in 2014.
The research also found that owners of vehicles first registered in Ireland in 2005 had no difficulty in offloading those vehicles and re-entering the market before the recession – just 14% of 2005 vehicles are still on their first owner.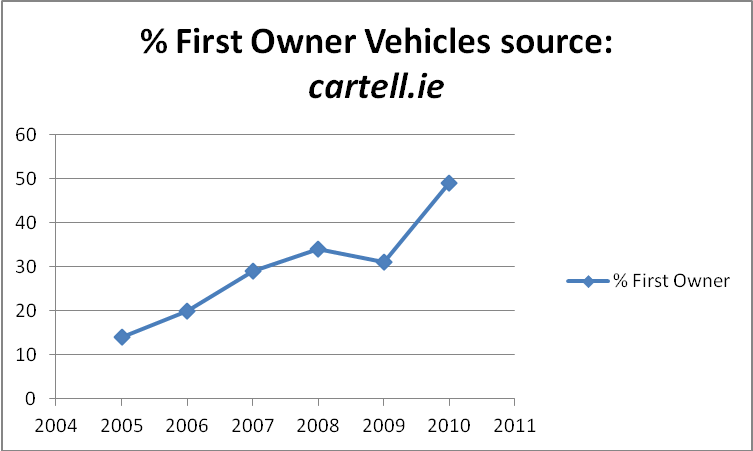 | | |
| --- | --- |
| Year | % First Owner |
| 2005 | 14 |
| 2006 | 20 |
| 2007 | 29 |
| 2008 | 34 |
| 2009 | 31 |
| 2010 | 49 |
Post-2009 vehicles in the market
There are several reasons why owners of post-2009 vehicles may have found it easier to offload their vehicle and re-enter the market:
2009 was a particularly tough year for vehicle sales when overall number of sales were markedly down and where finance was difficult to obtain, therefore those that managed to purchase a vehicle in that year often paid with cash, or had the means to obtain credit in a difficult market environment, consequently these owners had the means to re-sell those vehicles in subsequent years;
As overall numbers of new car sales were down in 2009 the owners of 2009 vehicles are finding the residual value of their vehicle is higher, in-line with diminished availability, and consequently making it more attractive for them to trade-up as the cost of change is less. Further there are many good deals on new vehicles.
Pre-2009 Vehicles in the Market
The converse is true for pre-2009 vehicle owners who are finding it difficult to offload their vehicles. This can be attributed to a number of factors:
While credit was widely available in the opening months of 2008, coinciding with the boom years, the credit bubble burst later in 2008 and the consequent knock-on effects on the economy left many 2008 owners "holding the baby" and finding it difficult to meet finance payments – most new vehicles were sold in the first half of 2008;
The change in motor taxation in July 2008 meant that vehicles taxed under the old regime have performed poorly in the secondary market where their values have fallen in-line with greater demand for Co2-regime-vehicles;
END
Notes to Editors
Owners Holding Vehicles Longer
Cartell used two distinctive sets of data: the first examined the development in the average number of owners of vehicles in the Irish fleet for each respective year. The second looked at the percentage of vehicles for each respective year which are still on their first owner. The results show that across the spectrum of vehicles in Ireland there has been a marked shift towards extending vehicle ownership. In the case of 7-year-old vehicles the percentage of vehicles on their first owner has increased from 12 per cent in 2011 to 20 per cent in 2013. In the case of 6-year-old vehicles that percentage has increased from 18 per cent in 2011 to 28 per cent in 2013. Similarly, in the case of 5-year-old vehicles, the number of vehicles still recorded as one-owner-vehicles in the Irish fleet has jumped from 28 per cent in 2011 to 34 per cent in 2013. The only exception found to this trend was for vehicles bought new in 2009.
42,000 overhang
Cartell examined the average number of owners of vehicles in Ireland for each respective registration year. The results show that the average is dropping as owners are holding their vehicles longer. In the case of 6-year-old vehicles the average has dropped from 2.3 owners per vehicle in 2011 to 2.0 owners in 2013. Likewise in the case of 7-year-old vehicles the average has dropped from 2.6 owners in 2011 to 2.3 owners in 2013. This creates an overhang in the market where vehicle owners who would have sold their car prior to the recession are now holding onto that car longer. Looking at the results from the research as a whole Cartell estimates this overhang at 42,000 vehicles.  This study does not take into account those who have imported a vehicle or those vehicles on their second or subsequent owner. They too are in a similar situation in that they are holding their pre-2009 vehicle longer and could benefit from swappage.
About Cartell.ie
Cartell.ie was set up in 2006 to help buyers make an informed choice when buying a used vehicle – including imported vehicles – by providing a user-friendly and cost-effective vehicle data checking service. Cartell.ie is a totally independent company and fully Irish owned.
For further information please contact John Byrne on 087 4199018 or at john at cartell.ie or check out www.cartell.ie for further information.
Update 16th November 2013
Paddy Power have closed their books for predictions on 2014 car sales. The final odds were
Under 73,000 – 7/1
73,000 to 80,000 – 7/4
80,001 to 87,000 – Evens
Over 87,000 – 7/2
This shows that punters willing to take a gamble on next years sales are quite positive on 2014 being a better year than 2013.
Update 22nd December 2013
The Irish Independent have reported that 2014 is already looking like a bumper year for car sales, with some manufacturers experiencing a doubling of predicted orders for certain vehicles.