Cartell is delighted to announce the entry list for the 2012 Cartell.ie International Rally of the Lakes this upcoming bank holiday weekend in Killarney. The complete list of competitors, co-drivers, make/model and class lists are available for view online – click here. The rally was officially launched on Sunday. Last year's winners Darragh O'Riordan and Tony McDaid will lead away the field from the start of the rally on Saturday May 5th. The Middleton drivers Subaru WRC is reported to be in top shape and the crew are looking forward to defending the top spot which they took so convincingly on the 2011 Lakes.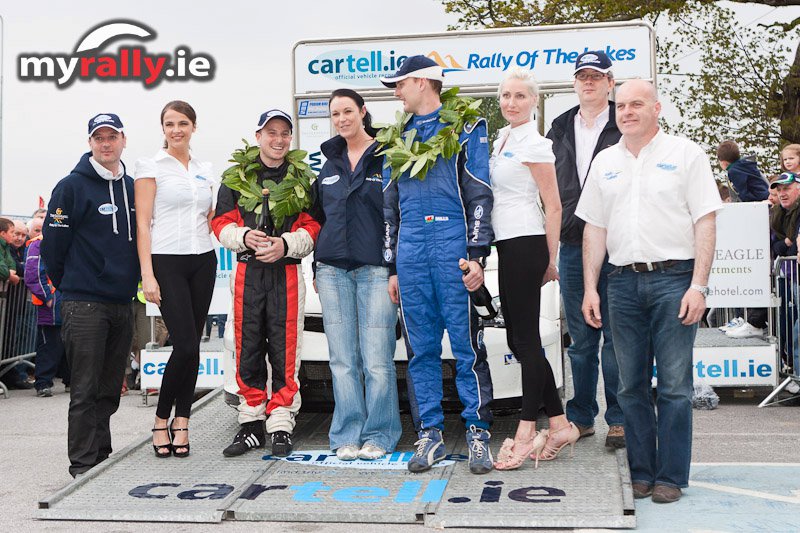 Following them off the start ramp will be another former winner Tim McNulty who will be anxious to avoid the mechanical failures which put him out of the rally on the third stage last year while in the lead and cruelly robbed him of victory in 2010 when the gearbox failed while holding a comfortable lead with just three stages to go. Despite his early exit from the Lakes last year Tim and Paul Kiely went on to win the Tarmac Championship and completed a unique double by also winning the National Championship.
Having missed the Circuit McNulty's total points to date are 15, a long way off the lead but its' a long year and if Tim's work commitments overseas permits he could well be in the shake-up by the time the series reaches its final round in Cork in October No 3 has been left available for a crew who are still trying to finalise a deal which hopeful will come together during the coming week. Next up at 4 is current Tarmac Championship leader Darren Gass, whose victories on the opening round of the Tarmac Series in Galway and the Circuit of Ireland at Easter have given him a 12 point lead over Eugene Donnelly/Paddy Toner who are on a total of 34 points, 7 clear of Gary Jennings who currently holds third overall in the Championship and leads Group N .
At No 7 Aaron McHale is the sole representative of the McHale rallying dynasty who have had such success in Irish rallying over the years. No doubt Aaron, a former National Champion, would dearly love to emulate the feats of Austin and Gareth who have both won the Lakes in the past.