All Doom and Gloom?
It seems like it's all bad news for car dealerships at the moment. According to SIMI, new car registrations are down by 63% in March 2020 versus the same period last year. Used car imports are also down by 48.1% for the same period, and dealers are shutting down across the country with Coronavirus restrictions maintaining a stranglehold on the economy.
The question remains, what is to be done? Do dealers just shrug their shoulders and wait it out, hoping Government subsidies sustain them until normalcy returns? Or is this crisis providing an opportunity for savvy dealers to examine their sales and marketing processes, and to pivot their offering according to new marketplace necessities?
The reality is that most dealers are working extremely hard to run their businesses in the challenging circumstances we all find ourselves in currently. And while showrooms are closed, it's still possible for members of the public to browse new and used cars online. The majority of dealers are still operating, and are available for inquiries via email, phone or chat, and maintaining some kind of functioning communication lines is critical especially in light of recent data from the UK which suggests customers are intending buying as soon as lockdown measures are eased.
Buyers Are Readying Themselves
In early April What Car? magazine published data from a survey of 3,000 car owners in the UK revealing that almost one in five of them (18.2%) intend to purchase a vehicle immediately after lockdown restrictions are lifted. The data points to a "a V-shaped bounce in Sales for those dealerships that have proactively harvested, engaged and managed the in-market car buyer during the crisis" according to What Car?
Moreover, some consumers wish to proceed with buying even during the current crisis with 3.5% indicating they want to finalise a deal in the next four weeks (again illustrating the importance of not going into total shutdown mode).
Lessons from China
If we look to China as an example of how the market might bounce back after the lockdown then the signs are also positive as the automotive market reversed its losses by 80% in February and is rapidly returning to maximum output levels to make up for that lost time.
Ash Sutcliffe, head of PR for the Geely Group (which owns Volvo and Lotus) commented on China's resurgence stating:
"I don't think many of those sales were destroyed. Many people were saying that all of the sales from February and March were completely lost, but I think many people have probably deferred their purchasing until later into 2020."
Volkswagen Group China chief executive Stephan Wöllenstein also commented:
"Our dealerships are seeing customers on the showroom floors once again. There are growing signs of recovery, with a good chance that the Chinese car market could reach last year's level in early summer. For Volkswagen, many highlights are still to come in 2020. This year, MEB production will begin and the Volkswagen ID family will debut in China."
While industry experts and leaders remain confident about an upswing in Sales in the not too distant future many dealers are rightfully asking what they can do in the present moment to minimise losses and prepare themselves for the increased demand later on in the year.
What Dealers Can Do Now
One immediate advantage that dealers should be aware of is that the current crisis means that private selling is not just ill-advised but most likely illegal, and therefore a whole swathe of competitors is instantly rendered obsolete.
Dealers need to make it abundantly clear they are open for business and ready to sell even if the doors are closed and this is


where the marketing and sales teams need to step up. Innovation and leveraging online channels are what is required to make an impact here and we can see examples like Joe Duffy's rebranded digital dealership (see right) with its virtual showroom and Carwow, the British car comparison website that recently launched the 'Delivery and Disinfections' initiative, which allows dealers to promote their remote services, including home test drives, virtual tours, and zero-contact buying.
But even if it's one person answering a phone there needs to be some resource by which potential customers can have their queries dealt with. Obviously having a website with a manned live chat channel is a valuable resource at a time like this but customers can reach out in a variety of ways and all of these should be checked, maintained and responded to regularly whether it's a contact us page, voicemails or even messages left on social media channels like Twitter or Facebook. The key takeaway though is to be proactive and to communicate with customers as to how they can reach out to you, and how you intend assuaging any likely concerns.
For example, during the current pandemic, the most effective way to complete a sale is via contactless delivery. is your dealership offering this service? If so, are you shouting it from the rooftops so customers are aware of it? Similarily are dealers upping their game when it comes to in-car cleanliness, ensuring that vehicles are thoroughly cleaned prior to any delivery? And once again how are you communicating this? How about a video of a member of staff cleaning out a vehicle that has just been sold where the dealer broadcasts their commitment to car hygiene prior to the sale?
Brand awareness is another issue that dealers should be aware of,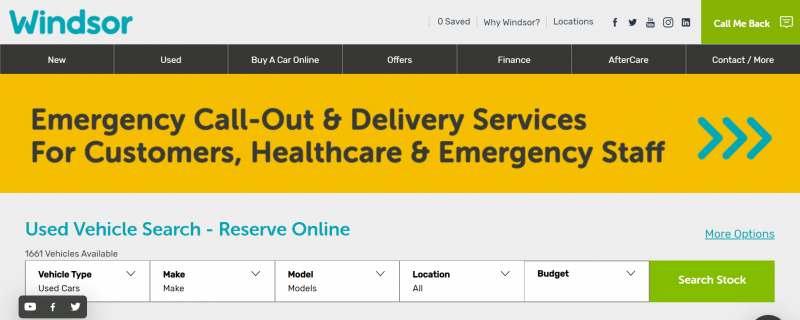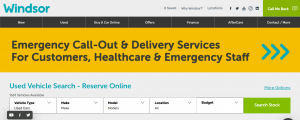 and assuming they have the necessary resources they should consider taking appropriate actions to support health and medical personnel across the country. The stereotype of the dodgy car dealer may be a thing of the past but in an industry where trust and relationships play such a vital part in the transaction, it would be a wise move for dealers to signal their support for the local community by offering incentives like discounts, extended warranties or free accessories to our healthcare and emergency workers such as the example from the Windsor Motor Group (above right).
The Manufacturers' Example
And quite apart from the dealers, it's worth keeping an eye on what the manufacturers are doing. They are the ones with massive marketing budgets and huge multinational teams so certainly have a keen sense as to what measures might be taken to stimulate growth. And the lesson seems to be to offer flexible payment options.
Ford, for example, has introduced a payment scheme called 'Peace of Mind', which enables customers to purchase now but defer payments for up to six months. While Hyundai has relaunched its 'Assurance Job Loss Protection' programme to support customers financially affected by the coronavirus pandemic. The scheme means that Hyundai will make up to six months of payments for new owners who lose their jobs and have purchased a vehicle between March 14th to April 30th.
Dealers need two plans, one for the current crisis and another for when the crisis subsides. For now, it's about maintaining customer confidence and keeping the communication lines open, and later dealers will benefit by offering flexible payment options and safe sales processes.  The Chinese recovery was built on an accessible e-commerce product, backed by new no-contact sales practices along rapid re-engagement with customers. Or simply put, it's about being available and meeting needs.
This ability to adapt quickly is what's needed within the automotive industry, and those who are clearly communicating their readiness to do business as well as facilitating customers remotely while reassuring them and providing all necessary information will be well-positioned to adjust to increased demand in the second half of the year.