PRESS RELEASE
Vehicle data expert CARTELL.IE reports today (January 9) that the proportion of vehicles offered for sale (across all years) with finance outstanding is at 16.61% – back to the highest levels Cartell.ie has ever recorded. This figure is up from 14.3% in December 2017 and 12.5% in July 2017. From a sample of over 5,906 vehicles offered for sale and checked via the Cartell.ie website in 2018 it was found that overall levels of finance have increased 16.15% in 12 months since December 2017 and 75% since June 2016 when the rate recorded was 9.5%.
Graph 1: Historic Percentages of Vehicles with Outstanding Finance checked on Cartell.ie (Source: Carstat, Cartell.ie)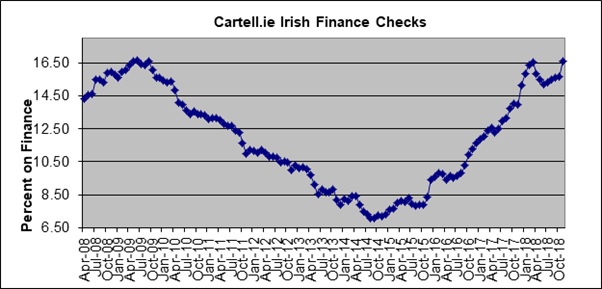 Jeff Aherne, Director, Cartell.ie, says:
We have now returned to the highest levels ever recorded by Cartell.ie for vehicles offered for sale with outstanding finance. In December 2014 we saw levels of finance outstanding at 7%: so in 4 years the rate has more than doubled. A buyer is advised to check a vehicle for outstanding finance as the finance company owns the vehicle until the last payment has been made – the bottom line is that you can lose the vehicle."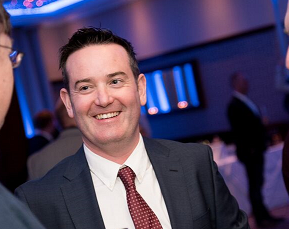 ENDS
About Cartell.ie: Cartell.ie was set up in 2006 to help buyers make an informed choice when buying a used vehicle – including imported vehicles – by providing a user-friendly and cost-effective vehicle data checking service. Cartell.ie is a totally independent company and fully Irish owned.
For further information please contact John Byrne on 087 4199018 or at john at cartell.ie or check out www.cartell.ie  for further information.
Notes to Editor
Table 1: Historic Percentages of Vehicles with Outstanding Finance checked on Cartell.ie (Source: Carstat, Cartell.ie)
| | |
| --- | --- |
| Period | Percentage |
| Jul-08 | 16.35 |
| Feb-09 | 17.05 |
| Mar-09 | 17.02 |
| Apr-09 | 16.57 |
| Jun-09 | 17.31 |
| Jul-09 | 16.14 |
| Jan-10 | 15.95 |
| Jan-11 | 12.83 |
| Jan-12 | 11.41 |
| Jul-12 | 11.24 |
| Nov-12 | 9.28 |
| Jan-13 | 10.07 |
| Jun-13 | 8.21 |
| Nov-13 | 7.52 |
| Jan-14 | 8.99 |
| Jul-14 | 7.84 |
| Dec-14 | 7.01 |
| Jan-15 | 8.29 |
| Mar-15 | 9.11 |
| Jun-16 | 9.50 |
| Jan-17 | 11.50 |
| Jul-17 | 12.50 |
| Dec-17 | 14.30 |
| Dec-18 | 16.61 |