Ireland's new toll scheme is now up and running, and it's great news for owners of Electric and Plug-in Hybrid Vehicles.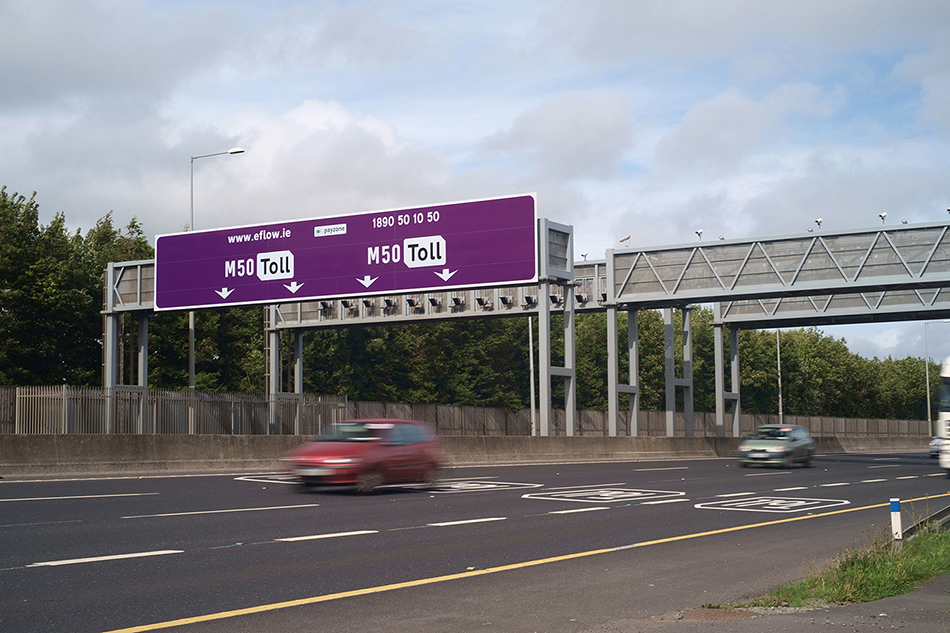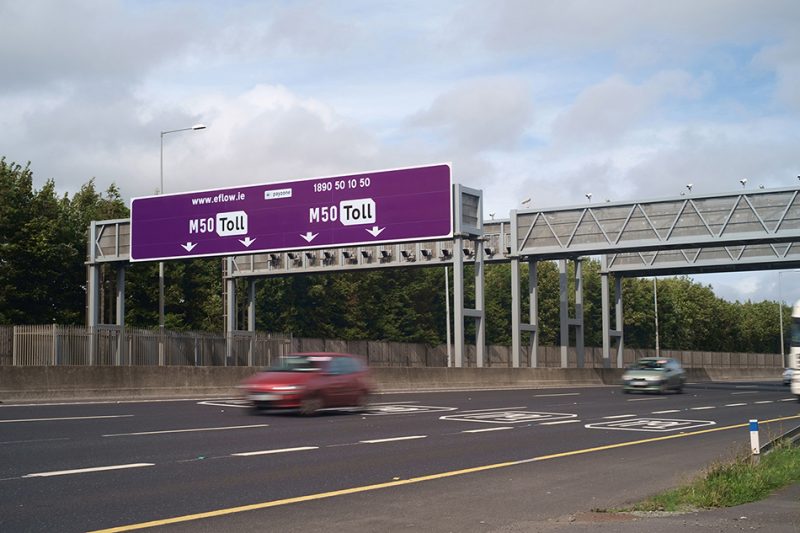 Overview:
The Electric Vehicle Toll Incentive (EVTI) Scheme commenced on July 1st 2018 and is expected to run until December 31st 2022. This allows EV and PHEV owners to now avail of toll discounts and refunds.
Commenting on the new scheme the Minister declared, "I am delighted to launch the new EV tolling scheme, this incentive is integral to the series of Governmental support measures aimed at promoting a low-carbon transport future". He added "this new scheme will yield additional savings to EV motorists, with the potential for eligible private car owners to accumulate up to €500 in toll savings per annum, and up to €1,000 in savings for goods vehicles."
In a final statement the Minister stated, "we are starting to see a steady rise in EV numbers; this can be attributed to improved technological developments and increased battery ranges alongside continued generous Government supports to reduce purchase and running costs. There are now over 5,000 electric vehicles in Ireland, over a 1,000 of which were registered in 2018 alone."
How it works:
A 50% toll discount will be applied for battery electric vehicles, and a 25% toll discount will be applied to plug-in hybrid vehicles. Higher level discounts will be available across stated tolls during off-peak times/journeys.
To avail of the discount, motorists must sign up for an EV tag with an approved Toll Tag Provider. EV and PHEV Drivers, who are currently registered with a Toll Tag Provider, should be contacted with details on how to transfer to the scheme.
Vehicle Restrictions:
The new scheme applies to all Battery Electric Vehicles, and Plug-In Hybrid Electric Vehicles provided;
CO2 emissions are 80gm per Kilometer or less.
The vehicle must be registered in Ireland
Goods vehicles must have a gross weight of 3,500kg or less to be eligible.
NOTE: Taxis, Hackneys and Limousines will be considered a private vehicle under this scheme and can avail of the same discounts.
New Toll Scheme Details and Refunds:
The following data is taken from the www.tii.ie (Transport Infrastructure Ireland).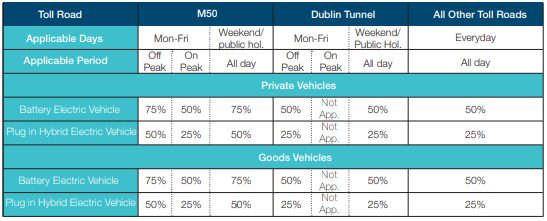 While you're here why not check out Cartell's new Personal Account:
Save 20% on your future Cartell Checks
View your past Cartell Checks
Get a Cartell Price Guide (CPG) value for your car
Rank your mileage against other identical cars with our Mileage Analysis tool
Check the ABI Insurance Rating of any Irish car.
To register for your Cartell Personal Account please CLICK HERE.
Alternatively, If you would like to find out more Information CLICK HERE.