Vehicle history and data expert Cartell.ie is at the Geneva Motor Show 2017. This is the premiere show on the automotive calendar and it's the sixth time we've covered it. It's been a real feast for the car lover this year with some 147 world premieres including the spectacular from Ferrari, Pagani and McLaren. As always there are plenty of car enthusiasts queued up outside waiting to gain entry when the doors opened this morning.
Inside, we first spend some time moving slowly through Hall 7 where there are many interesting after-market companies eager to chat to Cartell.ie about the market and their latest offerings. Up the elevator and along a corridor we enter the main show into Halls 3, 4, 5 and 6. As always the Fiat stand in front and the Ferrari stand to the left are the first we see. Ferrari, understandably, attracts the crowds with the line 5-deep in front of its stand.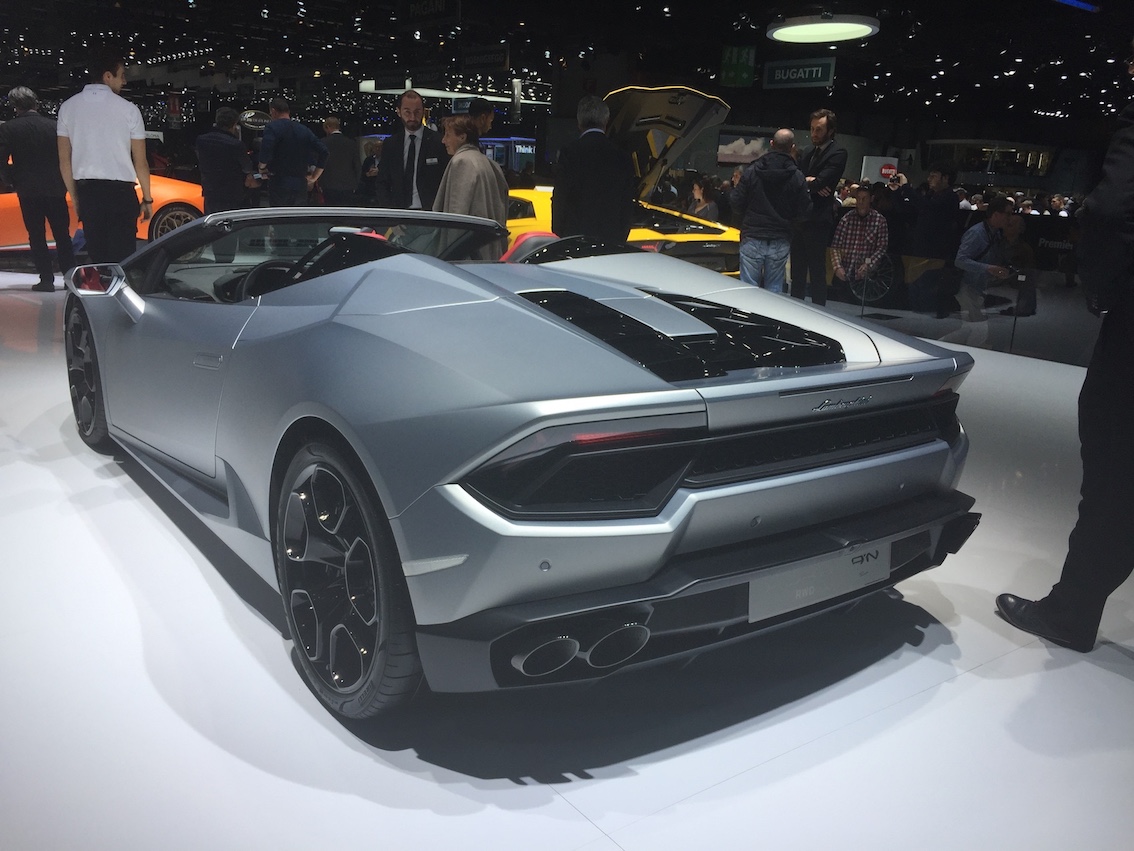 Ferrari
Ferrari showcase the 812 Superfast, which is the replacement for the Ferrari F12. The 812 Superfast is front-engined and can hit 60 miles per hour in less than 2.9 seconds! This car sports a 6.5 litre v12 engine outputting 789hp. Top speed checks in at 211mph. Queues were epic around the Ferrari stand – as always – but this year they've definitely produced a crowd-favourite. The look is sharp and the wheels look great. We particularly like the front-end. The rear spoiler and diffuser increase downforce significantly. This car has a 4-wheel steering system and software which affords greater oversteer function.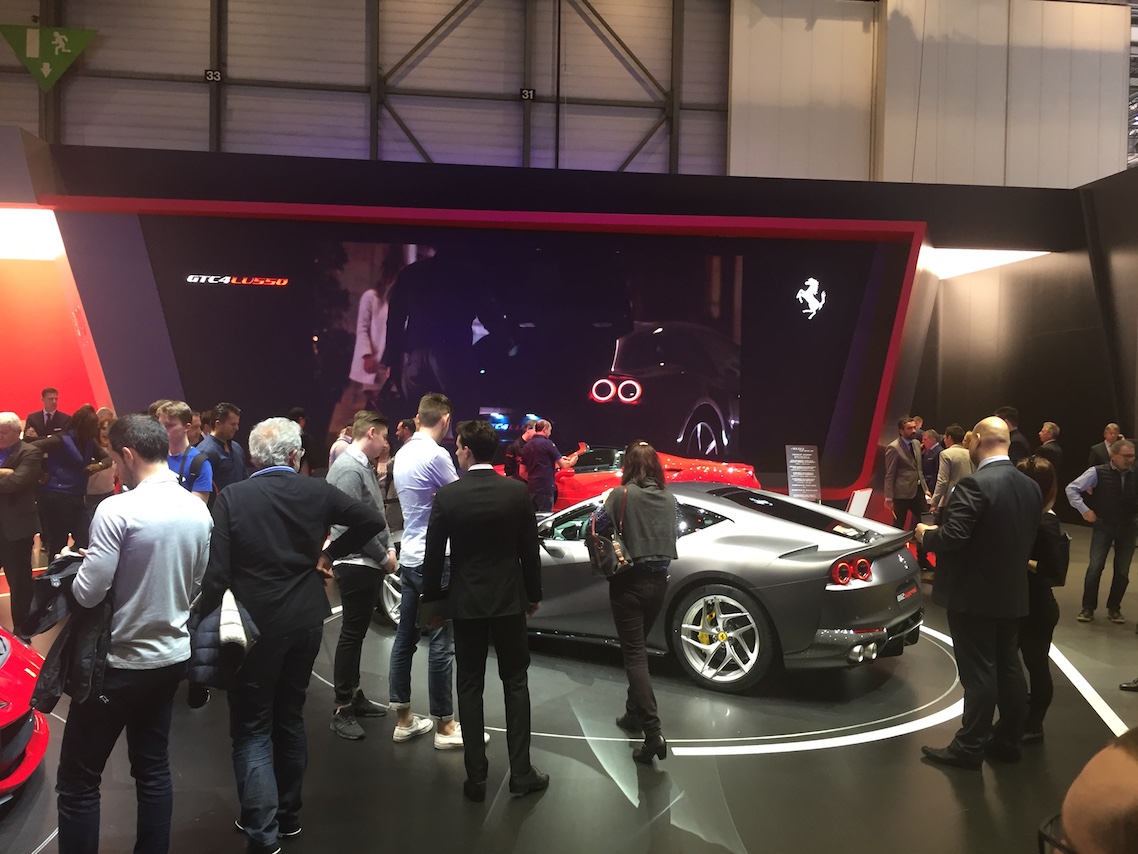 Porsche Panamera Sport Turismo
This vehicle proves how good an estate car can look if it's designed right. Gone the boxy elongated shapes. Instead we see something incredibly sporty. From any angle this vehicle looks spectacular. The wheels look fantastic and the rear light design have been a favourite of this car enthusiast for a while. Interestingly this Sport Turismo is no longer, wider or taller than the saloon version but it does offer practical benefits that make it far more usable: including rear headroom. Probably we are actually looking at a replacement for the saloon here if the market considers it offers more. It certainly looks sharper and more muscular.
In fact Cartell.ie thinks this vehicle could be the most significant vehicle at the Geneva Show this year as it shows off a design for estate cars which could herald a new wave of popularity for that type of vehicle."
McLaren
One of the biggest highlights from the Show is the all-new McLaren super series – the 720 S. This is a replacement for the 650S. Sporting 745 bhp this vehicle will unbelievably brake from 124mph to dead in just over four seconds! That's not a million miles from F1 performance! The dramatic 'fighter jet' glass roof looks amazing. "It is special. It almost feels like a milestone in the maturity and development of the company," said McLaren Automotive chief executive Mike Flewitt to Forbes in Geneva.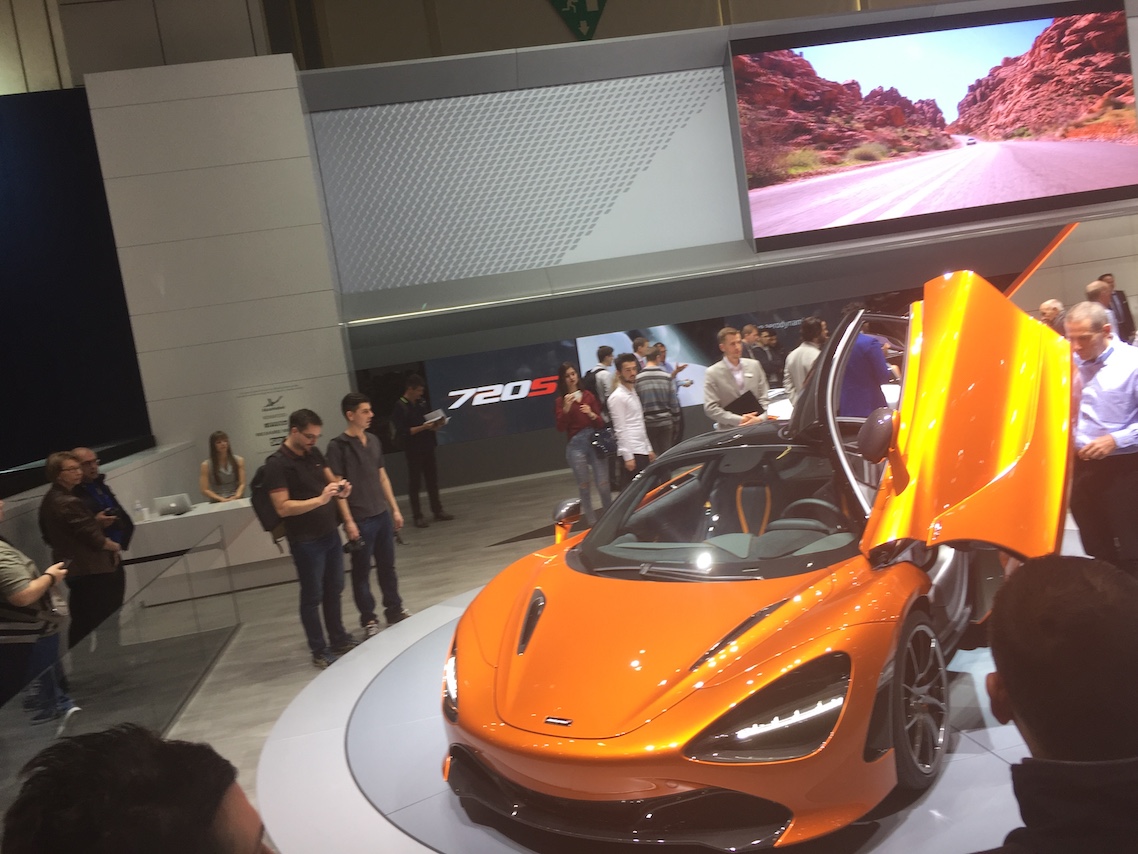 Pagani Huayra Roadster 
Pagani showcase the €2.28m Huayra roadster. This is a beautiful car – even in standard form – the attention to detail from the Italian car-maker is superb. Most of these have sold out already – showing there is a great deal of respect for Pagani at the top-end of the market: and only 100 are being produced. This has a carbon panel with a glass mid-section which can be removed. The front end has been reconfigured slightly and it weighs less than the coupé. Sporting the same v12 twin-turbo engine this machine looks fantastic in the flesh – check out those new wheel designs.
Parked on the floor of Geneva's Palexpo convention center, with its front, sides, and rear all opened up and exposed, the Roadster looked like an insect transformer in a discombobulated shell. Its tiny side mirrors stuck out like spindly antennae; its spindle-spoked 20- and 21-inch wheels looked like wings frozen mid-flight. The jewel-blue and carbon fiber exterior looked exactly like the back of a gorgeous garden beetle. Crowds can't keep away." (Bloomberg)
Ford Fiesta
Back down to earth now and Ford unveiled the Fiesta at this year's Geneva Show.We know how popular the Fiesta is – the 8th most popular car overall in the used market in Ireland in 2016 – it was also the best-selling new car in the UK in January with 8,495 registrations. This segment of the market has now become particularly interesting with the new Nissan Micra receiving a rave review from The Irish Times in January. This particular version is the Vignale – an upmarket version.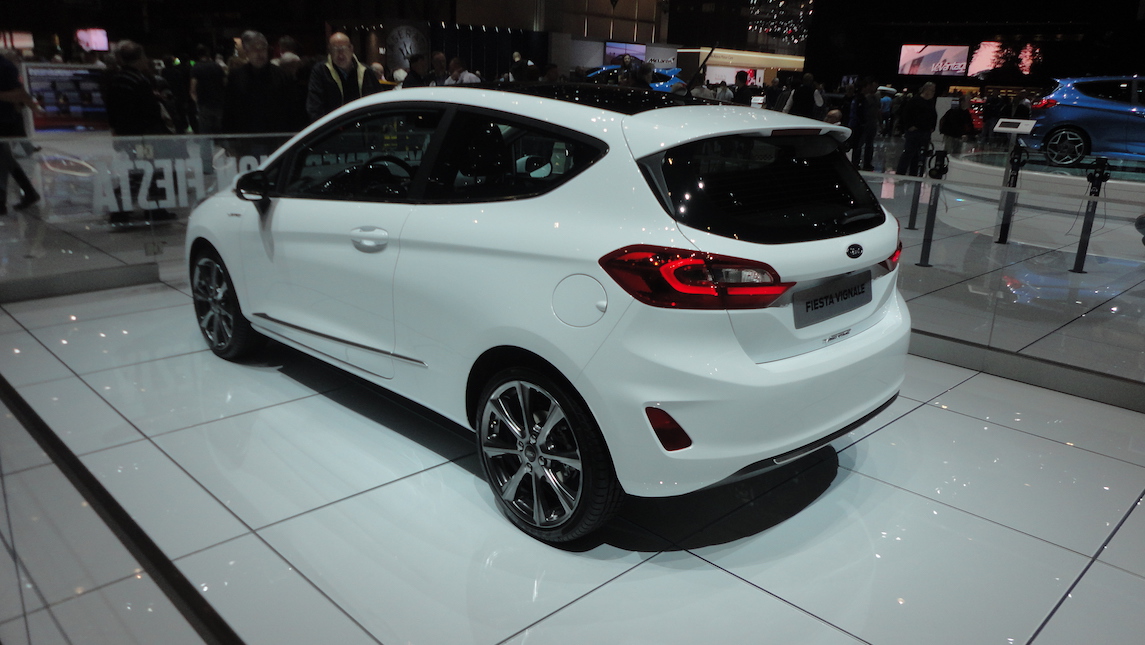 Seat Ibiza
Upstairs in Hall 2 there is another big unveiling. The Seat Ibiza "comes loaded with the latest technology features, outstanding dynamics, and impressive improvements in interior space and comfort," according to the company. It's the first offering from the Volkswagen Group's all-new MQB AO platform.
Interestingly this vehicle has grown in width over the old Ibiza but it's actually shorter and lower than before. Is this an early indicator that vehicle manufacturers are content to reverse the trend of providing buyers with new models larger than the previous generation?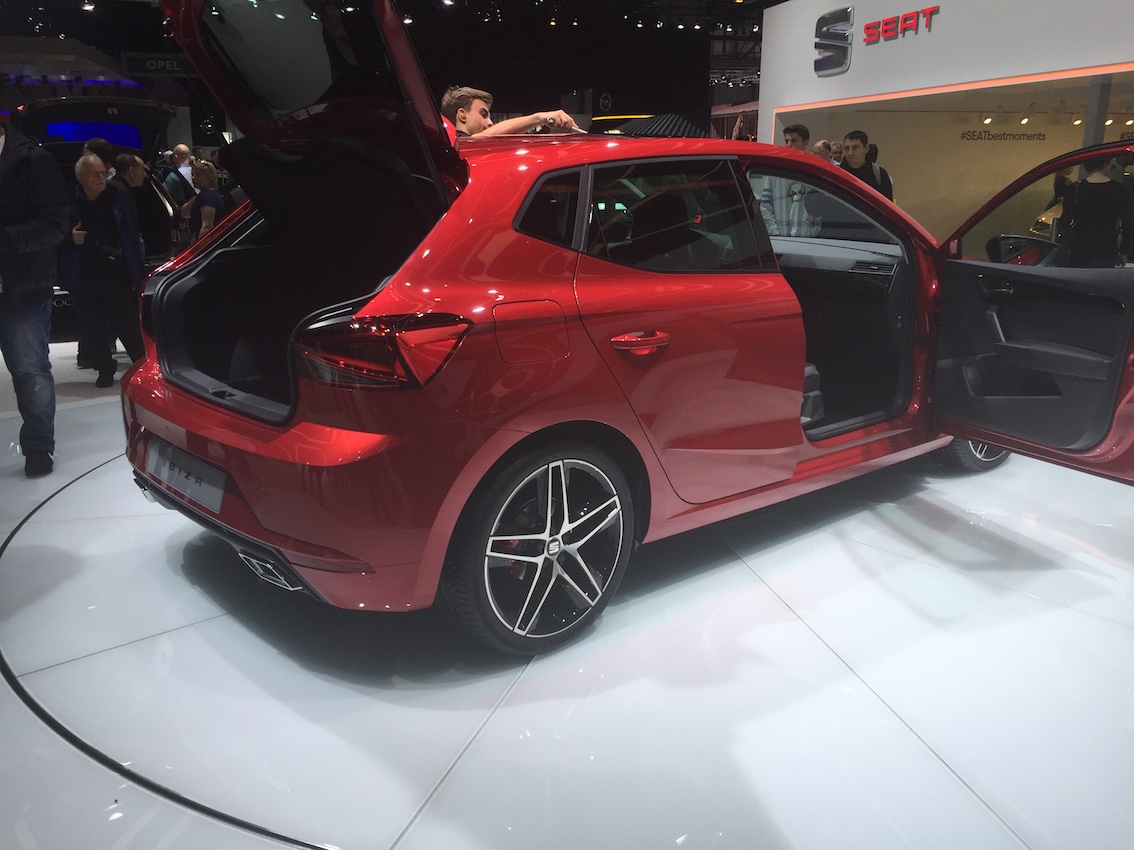 Suzuki Swift
Lots to admire for the small-car-buyer this year in Geneva: another unveiling brings the curtain down on the new Suzuki Swift. The new Swift is 5-door-only but where are the rear door handles? They are actually hidden in the blacked-out C-pillar. It's welcoming to see these design tricks – remember the Hyundai Velostar and the Ferrari Testarossa (ok a little bit further upmarket!)– examples of when manufacturers try to woe the galleries with something different.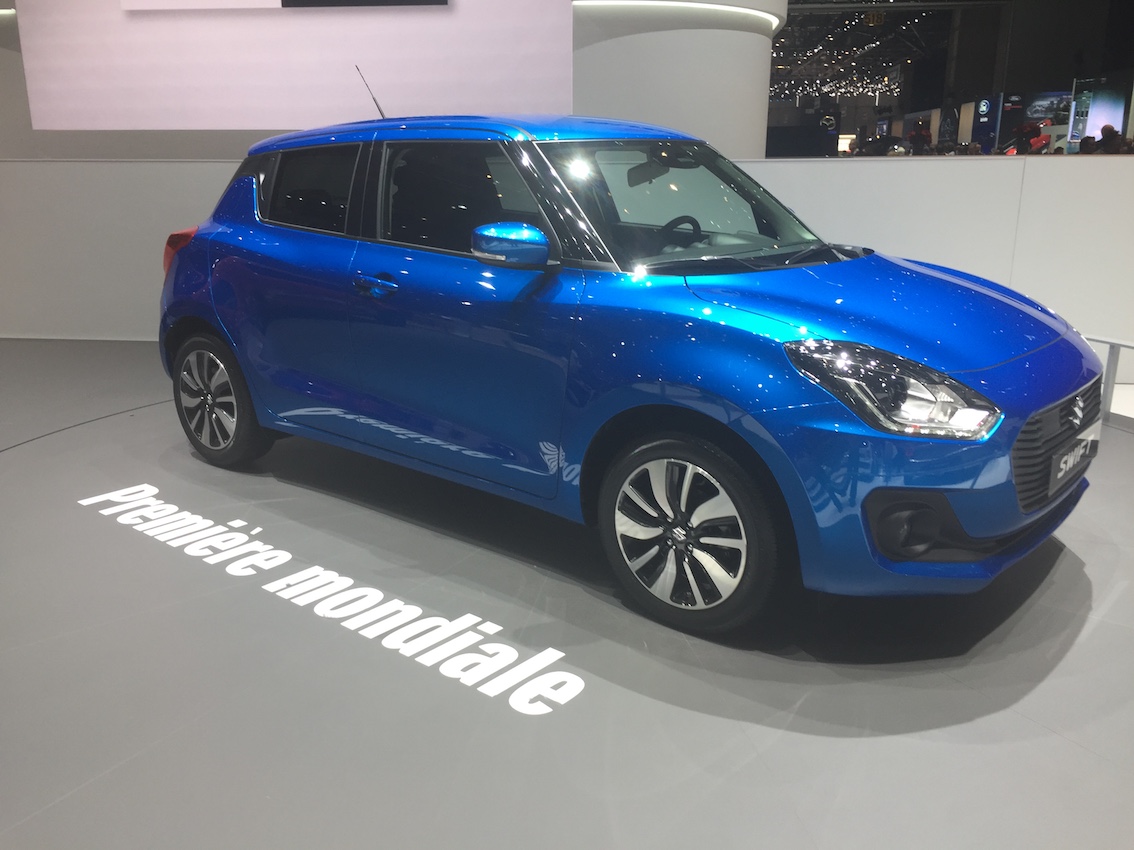 Kia Picanto
The company is promising "greater potential for customer personalisation, inside and out." This third-generation Picanto will only be offered as a five-door model, as the three-door struggled to find customers in the current generation. The car sports a longer wheelbase and shorter front overhang but the new car is no larger than the previous model. It does offer more head and legroom and the boot is larger.
Toyota Yaris Gazoo
Ending our look at small cars from Geneva Toyota have unveiled this fabulous looking creation called the Yaris Gazoo or Toyota GRMN (standing for GAZOO Racing Masters of Nurburgring). Almost small enough to pick up you know from looking at it how much fun it would be to drive. Really looking forward to watching video reviews of this one which is actually a Yaris hot-hatch sporting over 210BHP.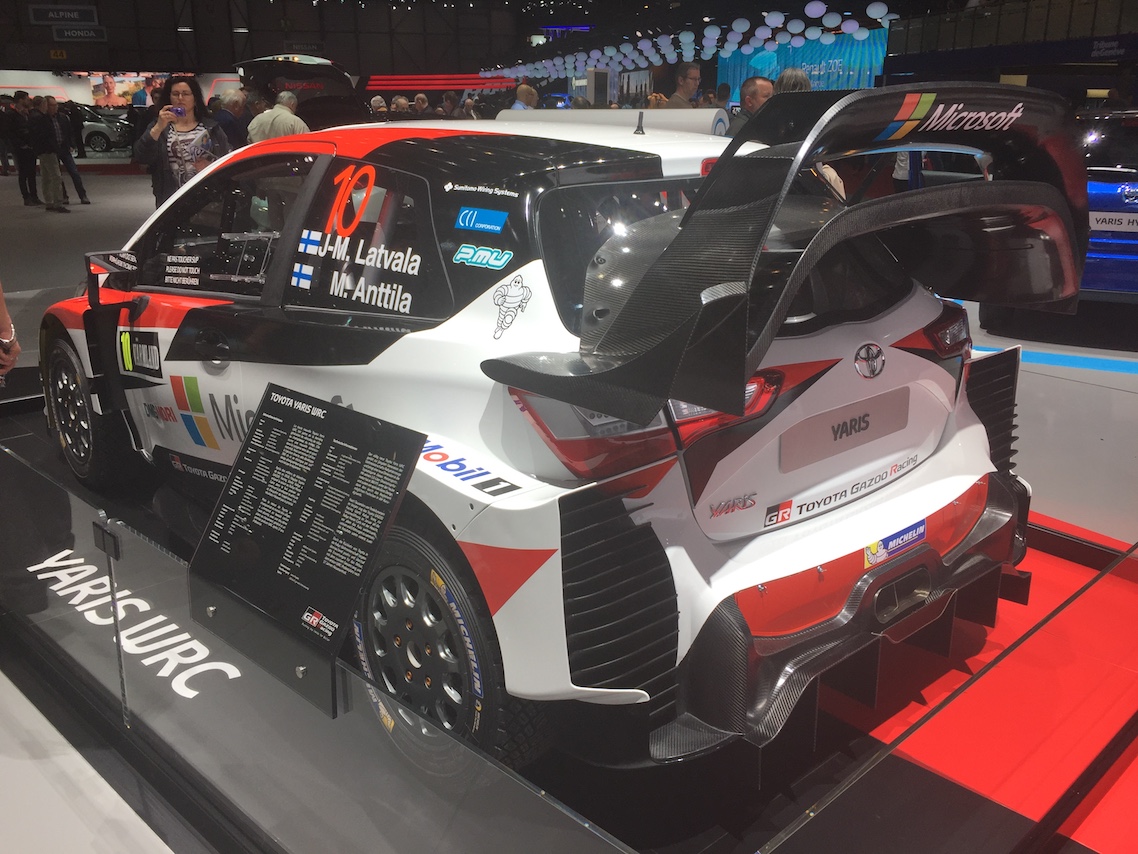 BMW 5 Series Touring
BMW unveiled its new 5 Series Touring in Geneva. This is a stylish looking vehicle and it really is a fantastic all-rounder: it's practical but classy. Boot capacity is now 1700 litres when at full capacity (useful for myriad day-to-day and weekend projects) and claimed fuel consumption, comes in at 4.35 litres per 100km. It isn't cheap though, retailing from €56,590 in Ireland, but it's likely to have a dedicated following. It looks magnificent in the metal, particularly its front three-quarter view which you may have seen from press photos, and we expect it will convert some saloon buyers to cross over to an estate.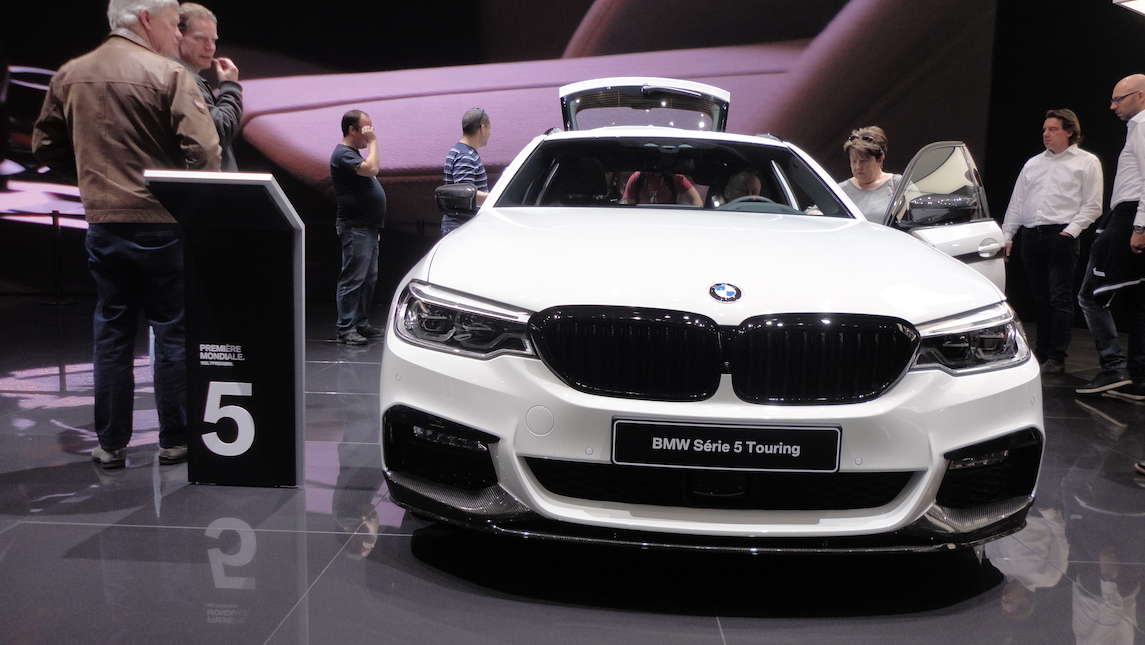 Range Rover Velar
After the success of design of their Evoque Land Rover are back at it again with the new Range Rover Velar. This vehicle was attracting lots of attention in Geneva today with considerable numbers of potential well-heeled buyers flocking to see the new sleeker design. This is a BMW X6 rival. Meaning it won't go missing in the traffic: it's big and imposing but it's also got that renowned Range Rover versatility.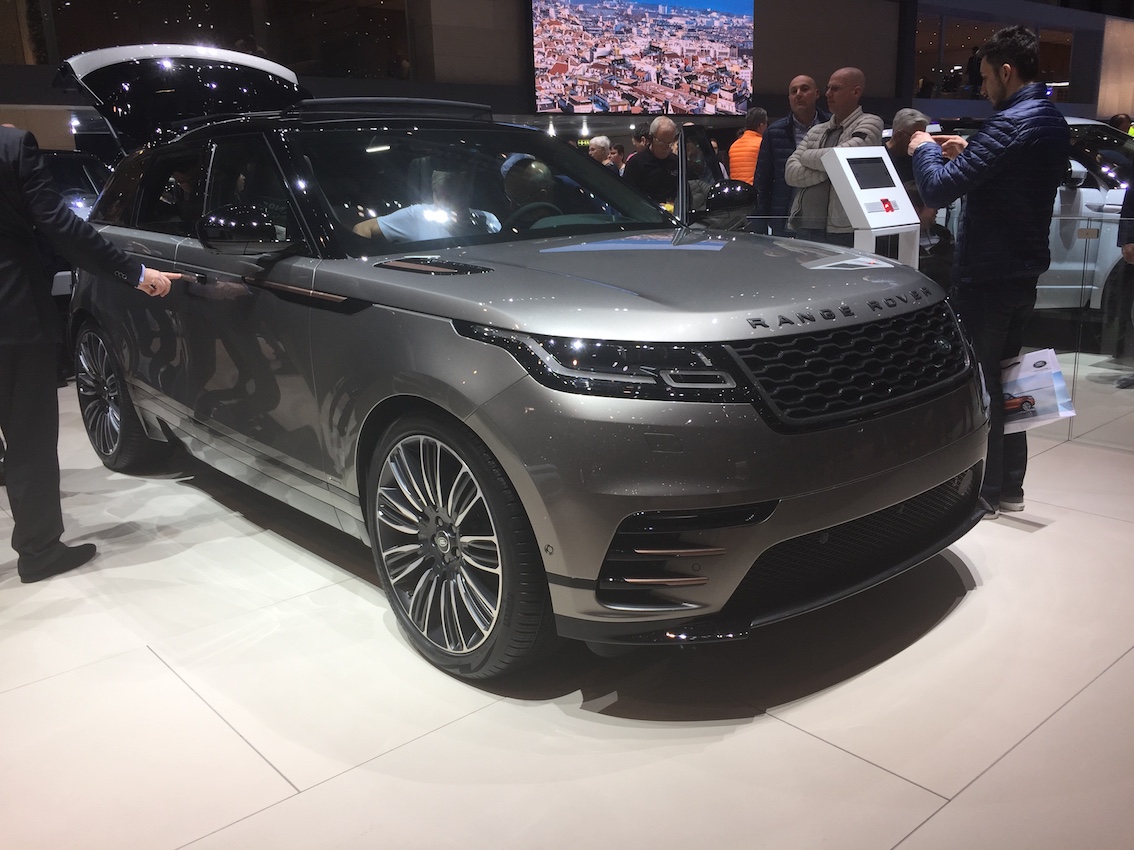 VW Arteon
Another sleek design  – this time from VW – sees the VW CC (formerly the Passat CC) replaced by the Arteon. This is an all-new vehicle and sits above the Passat in the range. It's expected to go on sale in the Summer. The interior looks particularly well finished. Not a lot of rear-seat space but this is a coupé model – so it's to be expected. You will certainly notice this machine in your rear view mirror – look at that front grill! Time will tell if the market takes to this one however.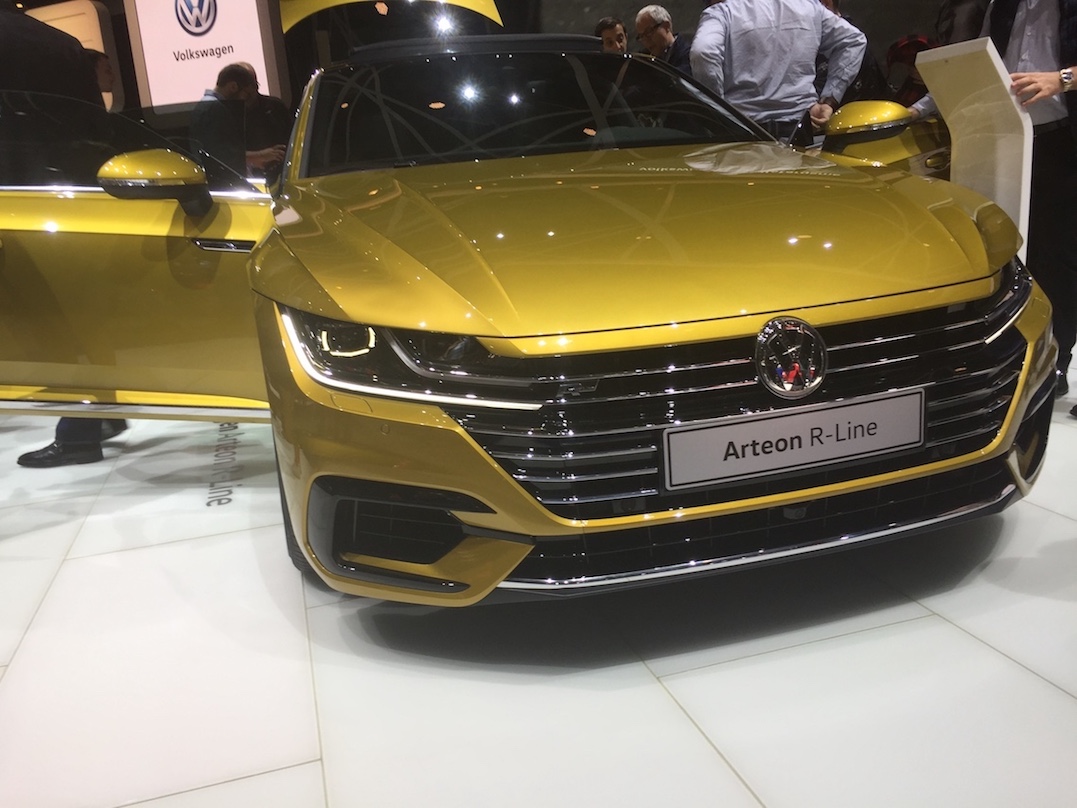 So, that's it from the show this year. You can check out our full album over on our Facebook page. There was plenty of variety: nice to see a lot of unveils of mass-appeal small cars. At the higher end we saw some spectacular machines with the McLaren and Pagani Huayra Roadster standing tall. We'd love a go in that Porsche Panamera Sport Turismo though… but judging by the masses gathered at the Porsche stand … we're not the only ones.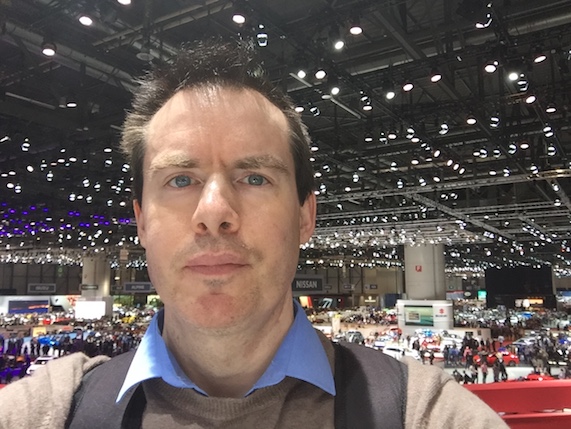 Check out our facebook page this week for exclusive Geneva Motor Show competition!