Vehicle History Check Expert Cartell.ie reports on news today from Brussels on new car sales across Europe in the year to date reported by the ACEA:
BRUSSELS, 19 May 2015 – In April 2015, demand for new passenger cars in the EU increased for the twentieth consecutive month (+6.9%), totalling 1,166,482 units and recording the best result in terms of volume for the month of April since 2009.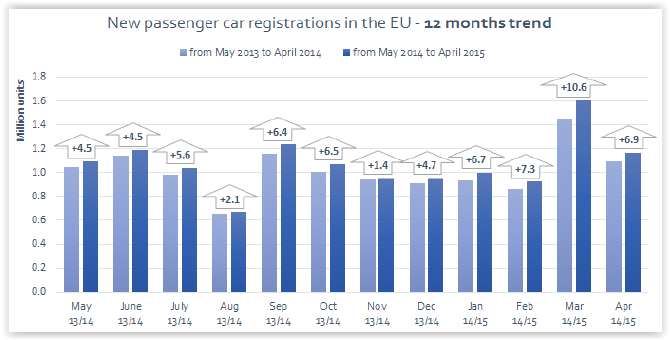 All major markets contributed positively to the overall expansion, especially Italy (+24.2%), which posted double-digit growth, followed by Germany (+6.3%), the UK (+5.1%), Spain (+3.2%) and France (+2.3%) that also performed better than in April 2014. Four months into the year, new passenger car registrations increased by 8.2%, totalling 4,695,058 units. All major markets posted growth, contributing to the overall upturn of the EU market. Registrations in Spain (+23.9%), Italy (+16.2%), the UK (+6.4%), Germany (+6.4%) and France (+5.6%) increased over this period.
RTE report the top gainer was Renault Group, which saw sales in the EU and European Free Trade Area (EFTA) bloc jump 15.3%, boosted mainly by a 15.6% surge in sales of Renault branded cars, and sales of Dacia branded cars up 14.7%. Demand for Skoda branded cars was up 9.5% while premium brands Audi and Mercedes saw registrations rise only 3.7% and 3%. Europe's best selling car brand remains Volkswagen, which recorded a 5.6% rise in registrations to 154,311 passenger cars last month. Sales of Fiat cars and those of Opel and its sister brand Vauxhall cars rose 9.7% and 5.7% respectively, during the same period, ACEA data showed.