PRESS RELEASE
SMART IRISH BUYER OPTING FOR LARGER ENGINES
Research says larger engine more fuel-efficient
Vehicle Car History Check expert Cartell.ie report today (22nd October) that the 1.6 litre engine is the most popular engine size in the Irish private fleet.* The 2.0 litre engine is the second most popular overall. The 1.6 litre engine is now undeniably Ireland's choice of engine size representing 27% of registrations in 2013 – almost 5,000 units ahead of its nearest rival. In 2007 the 1.4 litre engine was the most popular choice with 23% share of registrations.
While Ireland is exiting a recession, and downsizing is still a popular colloquial concept, it's clear the smart Irish car buyer is buying a larger engine than before the recession started. This move coincides with research released recently in the UK which indicates that fuel economy figures may be better for larger engines. [source: http://emissionsanalytics.com/beware-the-danger-of-downsizing/]
The overall picture in Ireland shows that the 1.6 and 2.0 engine sizes are now powering ahead of the rest constituting 35,000 units (44%) of all vehicles registered in 2013.
The change towards larger engines is due in part to environmental restrictions. To reduce carbon emissions, the Irish tax system changed from a CC based system to one of CO2 in 2008. The manufacturers had to reduce CO2 at a European level and this was done by switching to diesel.  However, as diesel is not as potent as petrol, manufacturers had to increase the size of the diesel engine (in combination with turbos) to provide comparable power to the petrol versions. The fuel mix shows that 79% of the top 5 engine sizes registered in 2013 were diesels compared to only 31% in 2007.
Jeff Aherne, Director of Cartell.ie says: "These are interesting results: while the overall picture shows new car sales are still down on pre-recession patterns, it's interesting that those that are entering the market are opting for a larger engine size. These larger diesel engines are more fuel efficient and produce less CO2 and are therefore cheaper to tax than the majority of petrol vehicles. However, manufacturers such as BMW and VW are now producing petrol engines that are coming close to the efficiency of their diesel counterparts."
Consumers are advised that among the checks Cartell can carry out are verification of manufacturer engine numbers, and confirmation whether there has been an official change of engine, based on the Government file for the vehicle.
Meanwhile the number of 2013 hybrid and electric vehicles has risen to 2,593 up a healthy 63% from 2011 (1635 units).
Most Popular Engine Size in Irish Private Fleet 2013 V 2007
(source: Cartell.ie)*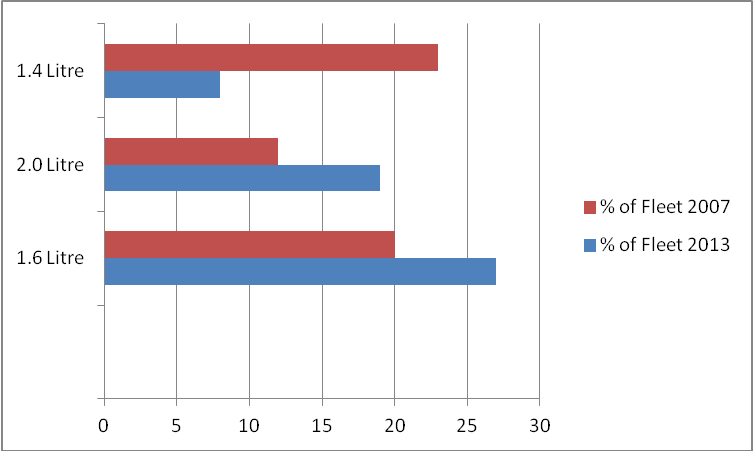 | | | |
| --- | --- | --- |
| Engine  Size | % of Fleet 2013 | % of Fleet 2007 |
| 1.6 Litre | 27 | 20 |
| 2.0 Litre | 19 | 12 |
| 1.4 Litre | 8 | 23 |
* Private Fleet includes Taxi and Hackney.
ENDS
About Cartell.ie
Cartell.ie was set up in 2006 to help buyers make an informed choice when buying a used vehicle – including imported vehicles – by providing a user-friendly and cost-effective vehicle data checking service. Cartell.ie is a totally independent company and fully Irish owned.
For further information please contact John Byrne on 1890 252331 or at john@cartell.ie or check out www.cartell.ie  for further information.