The current leaders of the Irish Tarmac Championship will go head-to-head in Killarney at the Cartell.ie International Rally of the Lakes 2014. The list of entries for the event shows some fantastic strength in depth across the Historic, Main Field, and Junior Categories.  Declan Boyle and Gary Jennings, currently sitting in the top two positions in the Championship, are listed numbers 1 and 2 in the Main Field Drivers Listing. Boyle, and his navigator Brian Boyle, recently made it 3 in a row after taking victory at the Fels Point Hotel Circuit Of Kerry stages rally. The crew won by 1 Minute 56.3 seconds over Welsh driver Hugh Hunter. Gary Jennings, the reigning Irish tarmac rally champion, and reigning Rally of the Lakes champion, will look to make it two-in-a-row at this years event.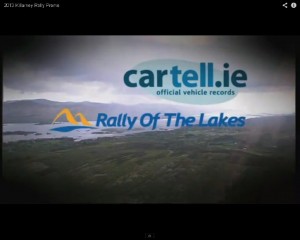 The entry list can be viewed on the official Cartell.ie Rally of the Lakes site.
Currently, the Tarmac Championship leaders are as follows:
# Driver           Points
1 Declan Boyle 30
2 Garry Jennings 22
3 Donagh Kelly 16
4 Sam Moffett 12
5 Josh Moffett 10.5
6 Stephen McCann 9
7 Eugene Meegan 7.5
8 Martin Doherty 6
9 Brendan Cumiskey 4.5
10 Pat Kirk 3
We are really looking forward to this rally weekend!