Used Car History Check expert Cartell.ie is delighted to be associated with the Carzone bi-annual report summarising the Irish car market in 2012, in which 889,441 used cars changed hands. The report was launched today and includes significant streams of data provided by Cartell.ie. It has received extensive coverage in the media.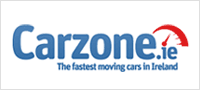 According to the report the most common search online is for a diesel engined car – 80 per cent of searches specified a diesel motor – despite there being an equal share of petrol and diesel cars available for sale online. Drivers are keeping their cars for longer, as regular readers of Cartell.ie will be aware, the average age of the Irish car fleet is over eight years. According to the report motorists spend €3,745 per year to keep the fleet on the road.
The most popular vehicle search for 2012 was the BMW 3 Series, with the Volkswagen Golf coming in second. Both of these models are at the higher end of the scale for ordinary motorists showing motorists are still after "exclusivity" on their driveways.

Ferraris, Astons and Lamborghinis make up a large proportion of the website's traffic too. Carzone confirms that, while there are only 17 Lamborghinis registered in the whole country, over 2,000 searches are recorded per month for each model on sale.
While the used car market was so buoyant in 2012, it seems that buyers don't use work's time to search for cars. Peak activity on the website occurs between 20:00 and 22:00, with app activity continuing on to around midnight. Of these searches, 71 per cent feature a specific make and model, and 14 per cent specify a 2008 model car.
Full details of this year's report can be found on the company's website at www.carzone.ie
_______________
For further information on Cartell.ie, or the Cartell data used in this report, please contact John Byrne on 087 4199018 or 1890 252331 or check out www.cartell.ie for further information.