PRESS RELEASE
MOTORBIKE SALES COLLAPSE IN 2012
Used Car History Check expert Cartell.ie today (16 October) releases information on the number of motorbikes in the Irish fleet. There are 51,174 motorbikes on the roads of Ireland today. The breakdown by registration year shows that motorbike popularity peaked during the boom years – 2002 was the most popular year for motorbike sales (following the dot.com boom) and 2001, 2003, and 2007 all returned strong sales. Conversely the number of 2012 motorbikes on the roads has collapsed – 2012 in the year to date has been the worst year for sales in more than 10 years with just 10,211 transactions in the market in the year-to-date. This contrasts with a figure of 18,819 for the full year 2011 and 20,146 for the full year 2010. There are two possible reasons for the collapse in sales of bikes:
1/ Sales of luxury bikes (so-called Toys for Big Boys) has fallen off dramatically as the recession bites;
2/ Industries where bikes are traditionally popular among workers as a mode of transport (e.g. construction) have been hard-hit in the recession;
The most popular bikes on the road today are the smaller displacement engines – engines less than 100cc are the most popular in the fleet. These bikes are generally used for urban commuting.
The research also shows that most bikes in Ireland are imported. There are 26,723 imported bikes in the fleet, or 52%. There are 24,604 indigenous Irish bikes.
There are more than 5,469 bikes older than 10 years in the Irish fleet – 3,029 of these would be classified as vintage machines.
The research also found that only 43% of motorbikes registered new since 2000 are currently taxed. This compares with the comparable figure of 91% for private cars registered new since 2000. This shows a very large number of motorbikes (57%) are not taxed. Anecdotally it is likely a very large percentage of these bikes are genuinely off-the-road and it is unlikely these statistics are evidence of large-scale tax dodging.  Overall, however, these figures are evidence of the impact of the recession on this sector of the market.
Graph shows Irish motorbikes by registration year currently in Irish fleet (October 2012)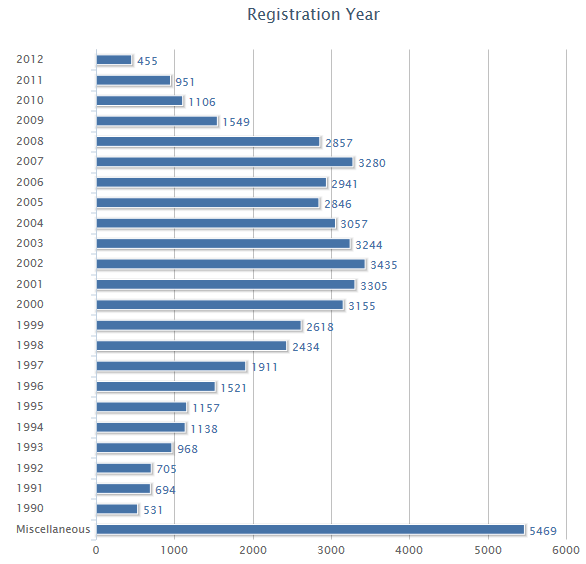 ENDS
For further information please contact John Byrne (Cartell.ie) on + 087 4199018 or email john@cartell dot ie or check out www.cartell.ie