Statistics provided by Cartell featured in this week's Sunday Independent in Ireland.
Used Car History Check experts Cartell provided the newspaper with information showing the car fleet in Ireland is aging – there has been a significant shift in the last five years: in January 2006 the average age of a car with up-to-date motor tax in Ireland was less than 6 years. That figure had risen to 7.4 years at the start of this year. The statistics also showed a month-on-month increase over the entire period.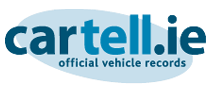 Reasons for the increase include the increased reliability of cars over time including the fact that significant rust issues are largely a thing of the past and the fact that drivers are consequently happier to hold onto cars longer. Other contributing factors include the drop in new car purchases  particularly in 2009 – which can be attributed to the global recession and credit crunch.
 Completecar.ie, who analysed the results, say the figures reflect a larger than normal number of used imports into the Republic of Ireland in 2009. In fact nearly half the total number of cars registered in Ireland in 2009 were used imports.
You can read more about the Cartell results here.