For this month's Trade Focus Cartell.ie stopped by for a chat with Sleator Kia just off the M4 in Mullingar, Co. Westmeath. It's been a good year for Sleator's they were this year officially appointed Kia Dealer for Westmeath and Longford after a presence in the area selling cars for many years previously. Barry Martin spoke to Cartell.ie about trading conditions this year:
"Trade is up this year" he says, "it's the first year that things have been on the upward curve since 2008, so that's something". We asked him whether scrappage has been the biggest contributing factor to that rise and he said scrappage has definitely helped. "The Government rebate for scrappage has reduced from €1500 to €1250 so that helps us but customer's out there need to be aware that scrappage is going to end in June and there's simply no way it'll be extended  – so people need to read all the Q & As about scrappage sooner rather than later to avoid disappointment!"
We asked Barry about another issue that's on everyone's tongue at the moment – fuel prices. "Well, all our cars are fuel efficient, so from that point of view our customer's are not getting hit too badly" he says, which we think is a good answer to a tricky question! Kia is one of the leading brands for fuel efficiency. The Cee'd 2 1.6 CRDi EcoDynamics (89bhp) 5dr for instance (see our used car review of the Cee'd here) achieves an impressive 62.8 MPGs.
And how has Car History Checking impacted on trading? Barry says: "Honestly, Cartell.ie have saved my bacon on numerous occasions – times when we were spared complicated  cases and messing around. It's a price well worth paying – on the public and on the trade side."
The biggest positive for Sleator's this year to date has been the introduction of the Kia 7 year warranty. Barry says: "The biggest issue has been awareness. We want to get the message out there that the 7 year warranty exists. I had a customer the other day that brought their car in for service and said they took a three year dealer warranty from a different garage – but he didn't need it! The 7 year manufacturer warranty would have covered him – so we have to get the message out there!"
The big negative this year has been with regard to finance. "Conditions and criteria are tougher than they've ever been," he says, "banks will simply not loan out the cash if there are question marks over tenure of employment or repayment schedules."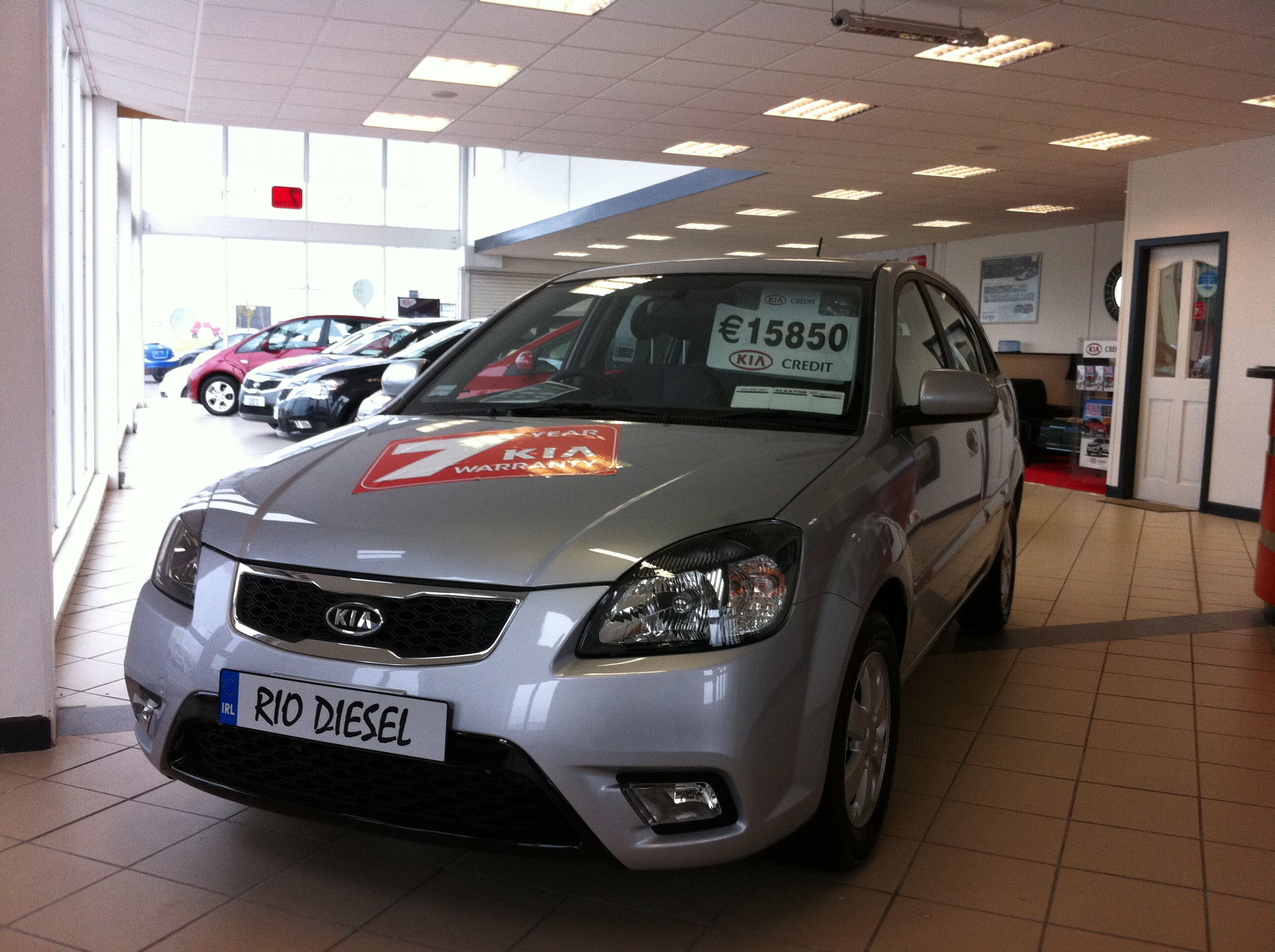 And the big seller?
The Kia Rio – especially the 1.5 TX – is the one the buyers want at the moment. He also points out the popularity of the Sportage – and the 2012 Kia Optima which will arrive soon and is the first Kia Saloon to go on sale in the Irish market.