Kris Meeke will drive with Paul Nagle for Citroën Total Abu Dhabi World Rally Team in the 2014 World Rally Championship
The 34-year-old Northern Irishman will drive one of the team's DS3 WRCs on all rounds of the series, starting with the world-famous Rallye Monte Carlo in January. He will be co-driven by Paul Nagle, the Killarney man who sat alongside Kris during his successful Intercontinental Rally Challenge campaign in 2009.
The new deal follows a pair of outings in the DS3 WRC in 2013. Kris's speed in both Finland and Australia helped to convince Citroën Total Abu Dhabi WRT boss Yves Matton to give him the exciting opportunity of a full season in 2014. His team mate will be the rapid Norwegian Mads Ostberg.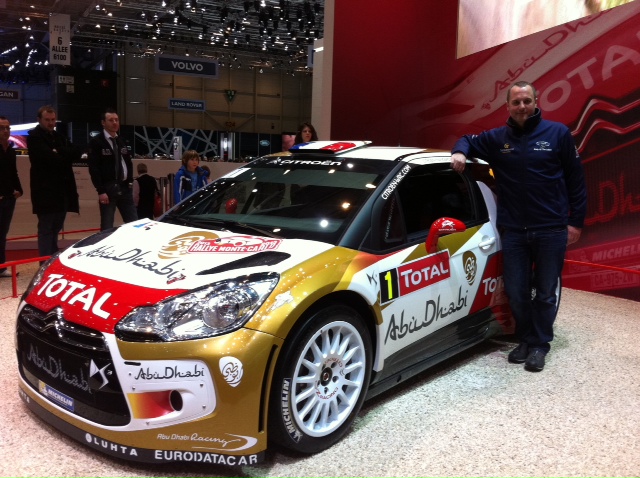 Kris said, 'It's an incredible opportunity. I've always been close to Citroën over the past few years. I'm really lucky to be able to work with a team that has so much experience and so many titles.
'I have only competed in ten World Championship rallies in a World Rally Car. I think I've got some potential, but I still need to get some experience under my belt. The Citroen DS3 WRC is a terrific car and I'm going to be able to use the team's knowledge to help me improve. I know that I'll have to be patient in the first half of the season and learn all about the rallies that I haven't done before.'
The Citroën team is the most successful in the recent history of the WRC, with eight manufacturer's titles since 2003. The company's cars – Xsara, C4 and DS3 – also took Sebastien Loeb to an astonishing nine driver's titles in a row between 2004 and 2012.
Kris has had a long relationship with Citroën. Much of the Dungannon driver's early WRC mileage came in a C2 Super 1600 in the Junior series, and he has since conducted many development tests for the French manufacturer.
As a result, Kris already has extensive experience of the DS3 WRC and the Citroën engineers. He has also contested many rounds of the WRC in a wide variety of front- and four-wheel-drive machinery, although some rounds – such as Sweden and Mexico – will be new to him in 2014. He is the first British driver to have a full WRC campaign in a top-line seat since his mentor Colin McRae drove for Citroën in 2003.
You can find out more on Kris's career in his Biography section, along with his thoughts on the cars he's driven over the years.
CREDIT: Motorsport Ireland