AND THE WINNER'S ARE:
4TH JULY IN THE INEC KILLARNEY – SHARON POWER
5TH JULY IN THE O2 DUBLIN – ANTHONY MOODY
7TH JULY IN THE INEC KILLARNEY – TED O CONNELL
Congratulations! Please email richard@cartell.ie to claim your tickets.
Thanks to everyone who entered and for the winners, we hope you have a great time!
"I don't honestly know if I am going to do anymore international trips" – Kenny Rogers, May 2013
American Country Music Legend Kenny Rogers is embarking on what looks to be his last ever UK and Ireland tour, speaking on Irish Radio on the 31st of May he said "I don't honestly know if I am going to do anymore international trips, mainly because of my boys.  You know I feel this is a 3 week tour and that's a long time to be away from them".  Do not miss this opportunity to see him perform 25 of his most famous songs including:  The Gambler, Lucille, Islands in the Stream, Lady and Ruby, Don't take your love to town, She Believes in Me and Lady.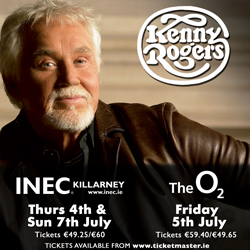 This summer sees him play the Motorpoint Arena, Cardiff (June 29th) LG Arena Birmingham (1st July), O2 Apollo Manchester (2nd July), INEC Killarney July 4th and 7th and due to popular demand O2 Dublin (July 5th). In addition to these performances in the UK and Ireland this summer, he will be one of the headline performers on the Pyramid Stage at the Glastonbury Festival.  Other Pyramid Stage performers include the Rolling Stones, Mumford & Sons, Vampire Weekend and Arctic Monkeys.  Kenny will also headline Festival Timitar, a world music festival, in Agadir, Morocco.
In May 2012, Rogers completed his Country Music Hall of Fame and Museum Artist-in-Residence in Nashville, which was marked by two amazing intimate performances at the Hall of Fame's Ford Theater. It was announced there that he had signed a long-term recording contract with Warner Bros. Records. Rogers is recording a new album for Warner Music Nashville, which is scheduled for release in 2013.
It was also announced earlier this year on April 10th, it Kenny will be inducted into the Country Music Hall of fame this October in Nashville, Tennessee during a special medallion ceremony.
Joining him as support for his UK and Dublin concerts is Irish singer Tommy Fleming.  Tommy Fleming is now recognised throughout his homeland of Ireland and across the world as one of the finest singers of his generation.  He has recorded 13 Multi-Platinum solo albums to date with combined sales of 1.5 million in Ireland alone.
"I really, really love what I'm doing," Rogers says. "People survive longer if they love what they're doing – because you just don't quit."
Kenny Rogers is the singer, musician, songwriter, photographer, producer, actor, and of course…The Gambler.
For real Kenny Rogers and American music fan's this is a chance not to be missed this summer.
We are giving away 3 PAIRS of tickets to see Kenny Rogers Live. For full details and to enter please visit
www.facebook.com/cartellcarcheck
Tickets for his UK concerts available from www.ticketmaster.co.uk and his Irish concerts on www.ticketmaster.ie
*****************************************
June 29th – Motorpoint Arena, Cardiff
July 1st – LG Arena Birmingham
2nd July – O2 Apollo Manchester
4th and 7th July – INEC Killarney
5th July The O2 Dublin
****************************************