Cartell.ie, Ireland's online car history checking company has discovered a worrying trend in the second hand car market that could have serious financial implications for used car buyers.
Statistics published today by Cartell.ie indicate that buyers have a 1 in 4 chance of purchasing a two year old vehicle with finance outstanding. From a sample of over 5906 vehicles offered for sale and checked on the Cartell.ie website, the figures show that for 2008 and 2007 registrations, the percentage of vehicles on finance is 26 and 23% respectively.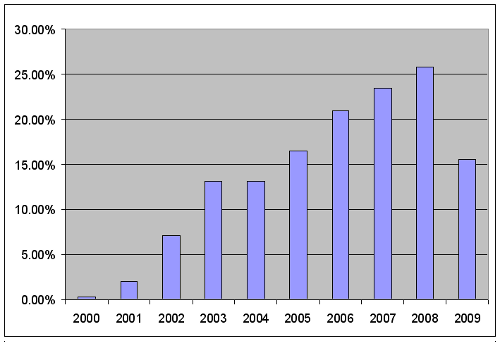 Jeff Aherne of Cartell explains,"Once again we urge buyers to be extra vigilant when it comes to checking the financial situation of a second hand car. Car finance differs from personal finance in that the finance company holds an interest in the vehicle until all monies have been paid. Unsurprisingly finance companies can and do repossess vehicles. Only in certain circumstances can a buyer of one of these vehicles get to keep it without paying the balance."
Consumers have the ability to check before they buy with companies like Cartell.ie and therefore the defense of innocent purchaser is less applicable.
Usually car finance terms are three to five years. However it cannot be taken for granted that a 2005 vehicle is clear of finance just because the current year is 2010. It can be seen from the graph that 16.5% of 2005 vehicles offered for sale are still on finance. Even for 2002 vehicles the finance rate is still 7.1%. It's not until you purchase a 2001 vehicle that the likelihood of it being on finance drops to 2%. One of the reasons for this is that the value of the 2001 car is such that financing it as a used vehicle would not make sense.
The 2009 figures buck the upward trend for vehicles on finance. Only 15.56% of the 2009 vehicles checked were on finance. This means that there is a greater chance of the 2005 vehicle being on finance than the 2009 vehicle.
It also proves that finance was not given out at the same rate as previous years and that the car industry will find it difficult to recover while funds are unavailable. Below are the top five finance companies which return a match for finance on the Cartell.ie system when a vehicle for sale has been checked. This does not represent market share however.
Irish Permanent Finance – 20.6% offered for sale with finance owing
Lombard & Ulster – 15.4% offered for sale with finance owing
Allied Irish Bank – 15.1% offered for sale with finance owing
GE Woodchester – 14.7% offered for sale with finance owing
Bank of Scotland Ireland 13.5% offered for sale with finance owing
Clearly the message Cartell.ie is trying to convey is that you need to check before buy and also if you do have a vehicle on finance and you are in difficulty, contact your lender to arrange a payment extension or some other method of payment reduction. Do not sell your vehicle to someone who could have the vehicle repossessed on them by your lender, as no decent person wants to cause financial hardship to another.
If you have bought a vehicle on finance, or have received a letter of intent from the financial institute looking to repossess, contact a solicitor immediately. 
Date of Issue – Wednesday, 19th May 2010