The Cartell Car Price Guide (CPG) is Cartell's purpose built car valuation service for Irish and UK vehicles. It is currently free to registered users who carry out a car history check.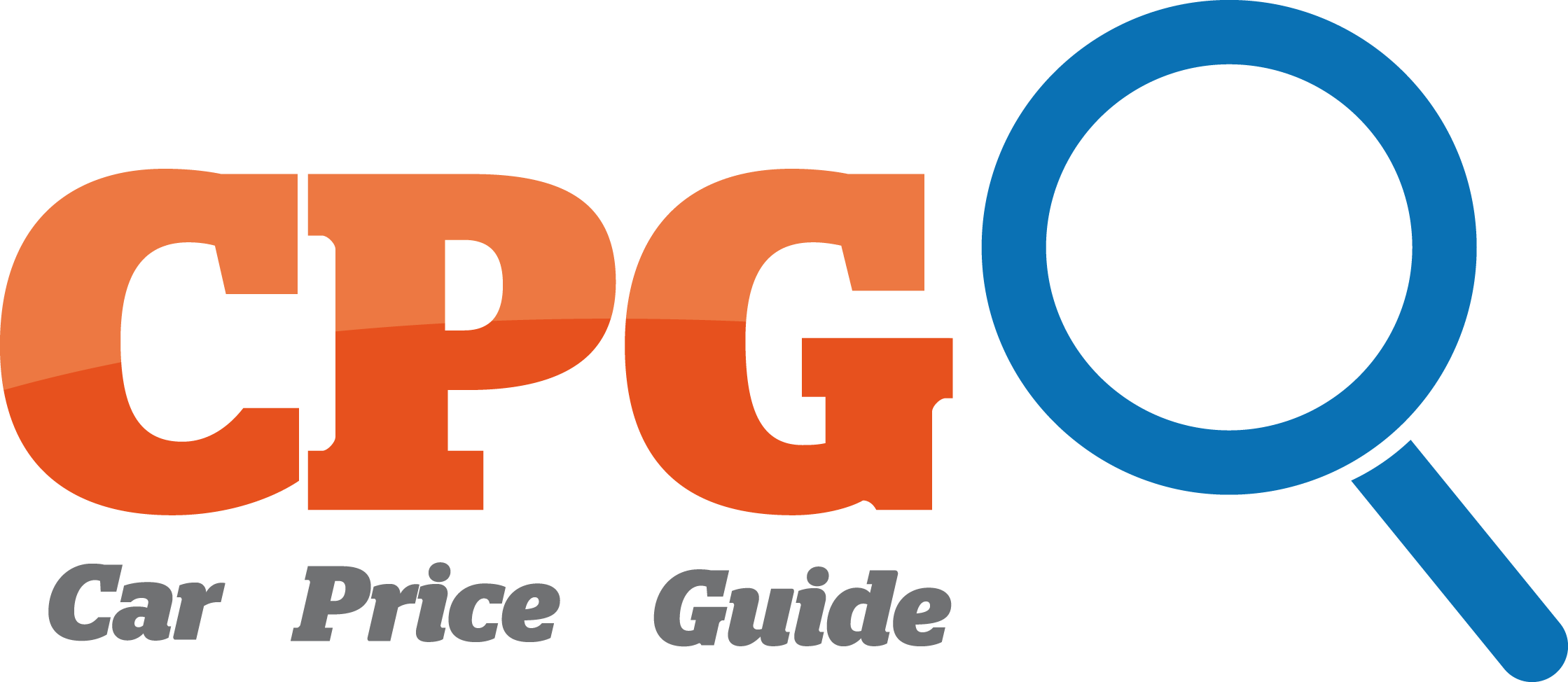 CPG is based on current advertised prices for the vehicle in question. Cartell.ie has been loading cars onto CarsIreland.ie, Autotrader and Adverts.ie via registration for a number of years and is provided with the advertised data in return. This data which includes the advertised price is combined with the Cartell.ie data available for that registration. The full details of the vehicle, including number of owners, specification and previous use, is then used in the CPG Database so that you can value your car as accurately as possible.
Cartell CPG – Providing Accurate Car Valuations
Previously, used car price guides were simply market-based, even if accessed through registration, they would respond with a value for a 'typical' example. CPG is different and has revolutionised the car valuation process.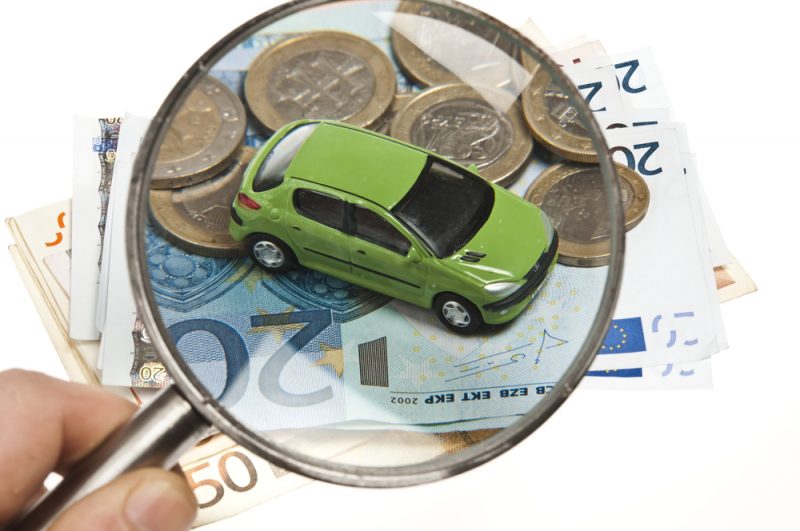 For the first time a car valuation service actually values the car being examined, automatically accessing Cartell.ie databases and assessing the car against the issues that the used vehicle market treats as critical such as:
Mileage
Specification
Number of owners
Original Value
Tax history
NCT status
CPG is extremely simple to use and all that is required is the registration of the vehicle and the mileage. The system gives a current valuation plus a one and three year future valuation for a given registration. It also displays sample adverts currently for sale, and is linked to Carzone.ie, CarsIreland.ie and Autotrader for real time comparisons. Only Cartell.ie has permission to use these adverts for your benefit.
Get Ireland's most trusted and accurate valuation on any car or vehicle (passenger or light commercial) used by automotive professionals as well as the insurance industry and financial institutions. Get a car vehicle valuation on any used car online in seconds!
Enter the registration number and mileage – check it out for free by signing up for a Cartell Personal Account
The Cartell Car Price Guide report includes:
Full Vehicle Identity Check
Current Market Valuation
Importance of CPG:
Get a true and fair value for your vehicle
Insurance Pre-Accident Valuation
Trading your vehicle into a garage
Selling your vehicle privately
Cartell CPG Sample Report Data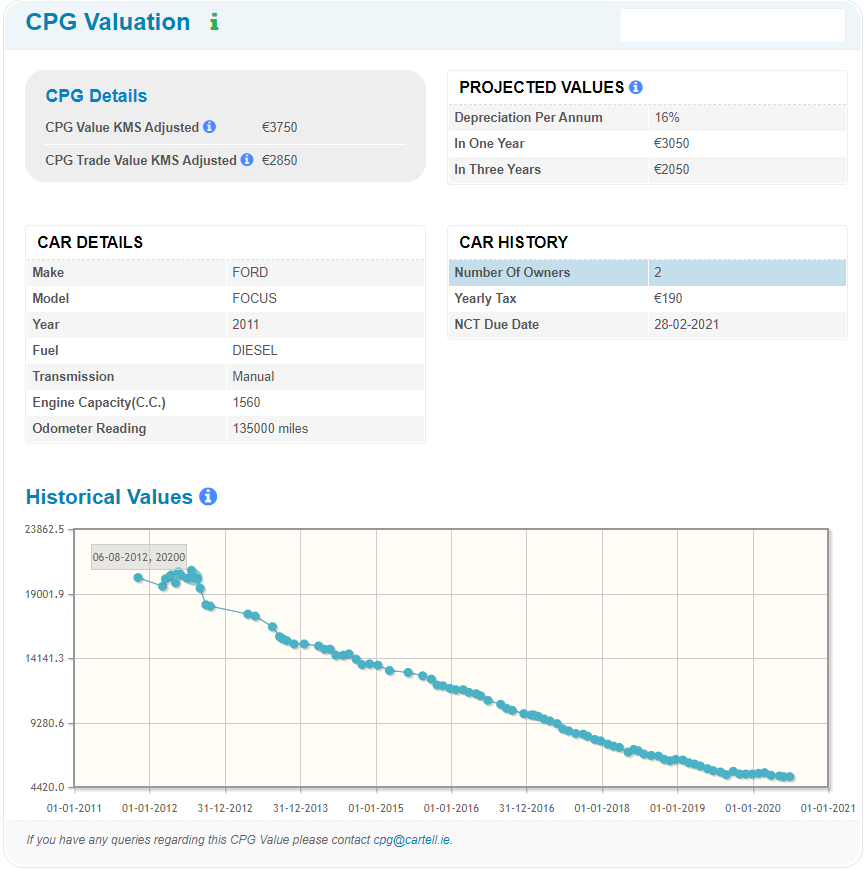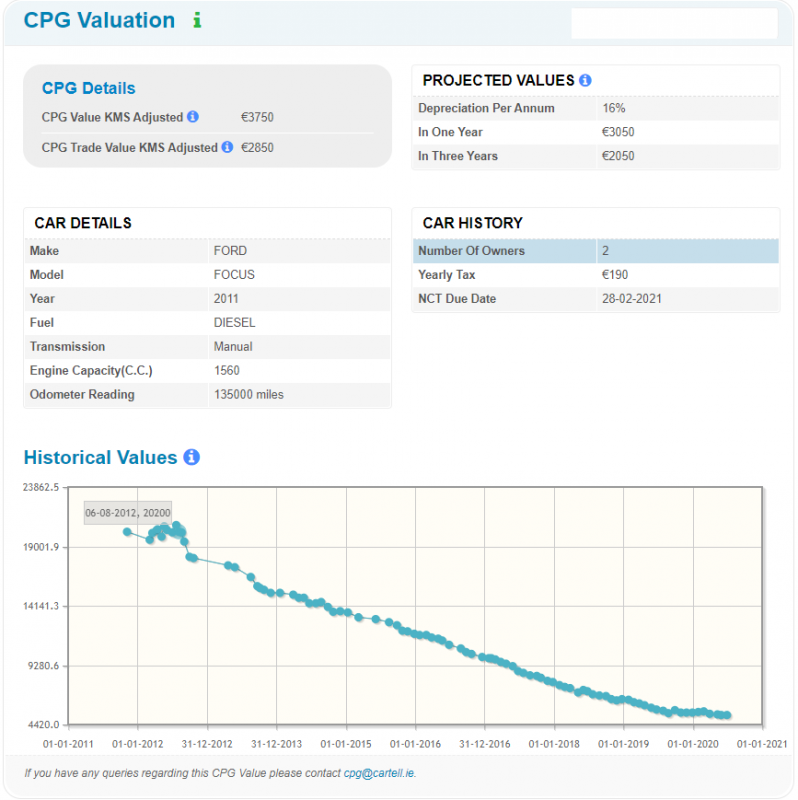 Why Car Valuation Matters?
When buying or selling anything we all like to know the approximate value of the item, particularly if it is something costly like a car or a house. Knowing the true value of something enables us to get a bargain (if buying) or get adequate bang for our buck (if selling). The Cartell Car Price Guide bases its results on the vehicle itself and its unique history (rather than simply estimating the value based on brand, model and year) and therefore it can be trusted to provide a more accurate appraisal of the car's worth.
The Cartell CPG is Ireland's foremost and most trusted car valuation system. It is used by daily by financial and insurance companies who need the most accurate possible valuation data at their fingertips.
The Cartell CPG is also accessed by motor dealerships across Ireland, as well as vehicle assessors and all kinds of financial institutions simply because they depend and rely on the accuracy of the data provided.
Ascertaining an accurate car valuation is an essential part of any car transaction. Many sellers of used vehicles want as accurate a representation as possible of their car's value.
The seller can print off a vehicle valuation report to ensure that the price is not driven down too much by a haggling buyer.
While a buyer similarly can use the Cartell Car Price Guide to guard against being ripped off.
To get an accurate car valuation and use the Cartell Car Price Guide you just need to enter the vehicle registration number in the reg box. The information forms part of a two or three star report.
Why do I need a car valuation?
The Cartell CPG has a number of different potential use cases depending on your circumstances. These include:
Getting a fair price if selling the vehicle
Referring to Ireland's leading brand in vehicle data when asked how did you value your car
Providing an accurate estimate of the current market value of the car for the purchaser
A price negotiation tool
Supporting the quoted asking price
Using a verified and independent third party source to determine price over subjective opinion.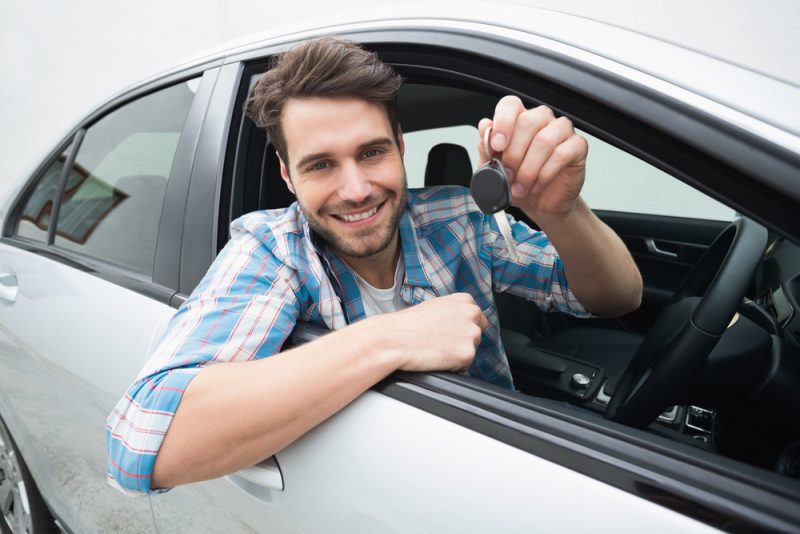 What to do before you buy
Get a Cartell Three Star Car History Check of course!
Check all documentation (Use the car history check report to corroborate)
Negotiate – don't just accept the asking price, there may be some wiggle room
The cost of the vehicle is more than the asking price (Tax, insurance, fuel costs, repairs, NCT etc.)
Do not buy on impulse (do you really need the the air-purifying bamboo bags and

fully retractable pet seat be

lt?)
Stick to your budget (there is a bargain out there waiting for you to sit in it and press the pedal)
What to do before you sell
Paperwork (Your VLC and NCT documents should be available for the seller to review)
Have Your Cartell Car History Check to hand (This will reassure your buyer about the roadworthiness and quality of the vehicle)
Advertise (Use CarsIreland.ie to advertise your vehicle and give all necessary details)
Take nice photographs (Make sure the car is clean and in a nice and well-lit location, include pictures of the NCT Cert and Odometer)
Clear the finance on the vehicle (A Cartell car history check will inform a buyer if there is finance owned, and they may not purchase as they will be liable for the vehicle if the finance is not cleared.)
Register (Remember to register the change of ownership with DTTAS)