Why Choose a Cartell Car Check?
The Cartell Car Check is Ireland's No.1 car history check, for both Irish and UK vehicles.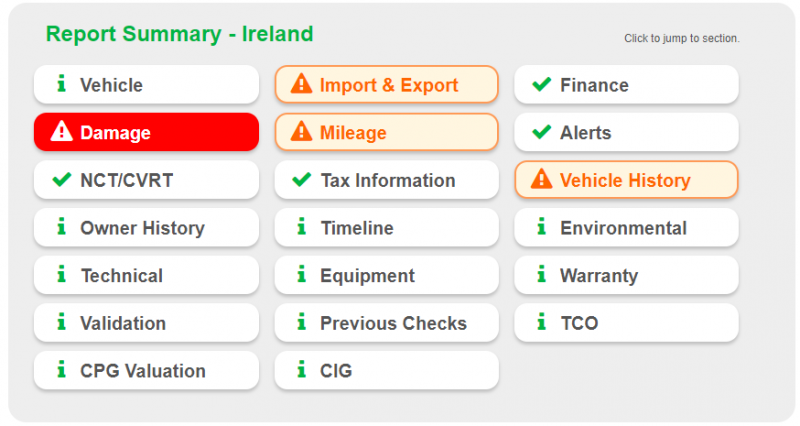 Whether buying or selling a used car, a Cartell Car Check is a must. It will immediately notify the user of any "red" alerts, and provide the recipient with an extensive report covering vital checks and information.
Buying A Used Car – Cartell Car Check
When buying a used or secondhand car, it's essential that you are careful and thorough in research. The buyer should always educate themselves with a car history check and request to see a full service history for the vehicle. If the seller is providing a Cartell Car History Check or a history report from an alternative provider (Motorcheck / My Vehicle), the buyer should make sure it's recent and that the details match the car.
Cartell would always advise the buyer to run a Cartell car history check of their own before going to view a car. Our friends at completecar.ie pulled together some tips for buying used cars, read it here!
Important Checks and Information provided:
Mileage Check
The Cartell check will alert car buyers to any mileage discrepancies ("clocking") on the vehicle checked.
Finance Check
Avoid inheriting existing car loans. Learn whether or not the vehicle checked has outstanding finance.
Write-Off Check
Car buyers will be alerted if the checked vehicle has been previously written-off by an insurance company.
NCT & Tax History
The check will show car buyers whether the vehicle has been NCT'd and Taxed regularly,ensuring it's upkeep and maintenance.
Owner History
A vehicle with a high number of previous owners can be problematic, specifically regarding insurance. Cartell can tell you how many previous owners there were, and how long each owner held the vehicle.
SAMPLE – Cartell Car History Check 
---
Get Your Cartell Car History Check Here
Simply enter the registration of a vehicle you would like to check into the Blue Box below.
Irish Cars
8 years old & older – 3 Star Cartell Check – €35
Less than 8 years old – 3 Star Cartell Check – €45
UK Cars:
8 years old & older – 3 Star Cartell Check – €35
Less than 8 years old – 3 Star Cartell Check – €45
NOTE: 3 Star Cartell Car History Check includes; Full HPI UK History Check, Irish History Check, Mileage Check, Finance Check, and a Write-Off Check. Plus much more!