Tim McNulty leads the Cartell.ie Killarney International Rally of the Lakes from Denis Cronin and Alastair Fisher in 3rd position overall. The Irish Tarmac championship leader Gareth MacHale had to withdraw after stage two with engine problems leaving Daragh O'Riordan as the main contender until stage six when Daragh failed to appear at the finish of the stage,  this moved Alastair Fisher and Denis Cronin up a place. Scottish visitor Paul Bird on his first visit to the Rally of the Lakes  is certainly getting on the pace now. Apart from the problem with the car on the first stage Paul is climbing up the leader board.
Danny McBride was up as high as 10th place but he has slipped to 13th in his GpN Lancer although he reports no real troubles. Eoin Doyle has dropped down the classification having spent about 30m digging his Subaru out of a garden in stage 4.
Marty McCormack/Dai Roberts are holding 11th and leading the Citroen Rally Trophy. Robert Barrable/Damien Connolly are next in the dash for the cash Citroen Rally Trophy and are hoping they can overhaul Marty on Sunday to take home the 20,000 euro prize.
In the Historic battle Todd Falvey is winning from Ray Cunningham and Denis Hickey is in third. Tim McNulty has won his 1st Trophy of the weekend when he claimed the Bertie Fisher memorial Trophy for the fastest time up the Gap.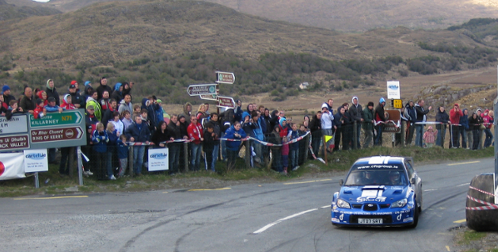 In the National section  of the Rally Phil Collins/Steve McAuley are still having a ding dong battle with Barry Meade/Johnny Hickey,Collins leads by 14 seconds Ed O'Callaghan also in an Escort is 3rd in this section. Tomorrow stages move to Caragh lake area of Killarney and the first car is due on that stage at 9 am and the winner will cross the finish ramp at the Gleneagle hotel at 5 pm. There is still a lot of rallying to be done on Sunday and the battle between Tim McNulty, Denis Cronin and Alastair Fisher has only reached half time and anything can happen tomorrow.