Cartell.ie would like to thank BMW for providing us with a race spec BMW 3 Series for the Cartell.ie International Rally of the Lakes. The race spec included 19" alloys, lowered and stiffened suspension, short throw gear box and timer on the steering wheel.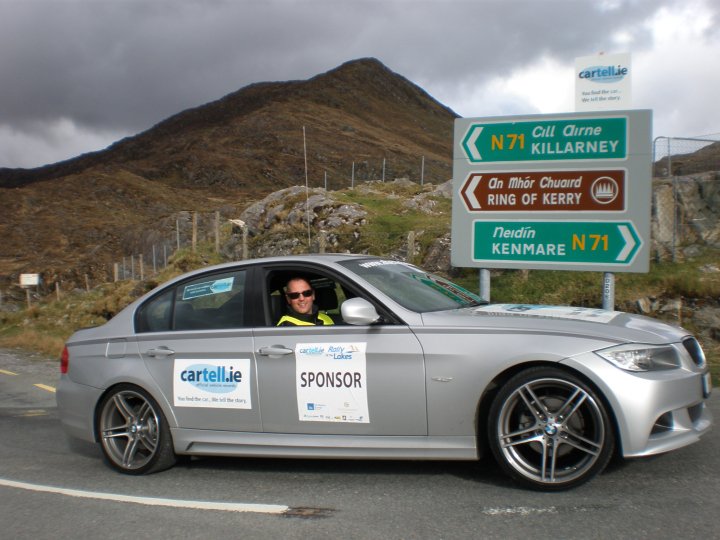 The vehicle was driven by Cartell's own tamed racing driver, Richard the first. I must admit that I felt a slight nervousness at the prospect of being driven on closed roads by a man who has owned a 325i and 335d within the past two years and has clocked at least one of them on the Autobahn. None the less the car was fully insured and we promised we would take care of it for BMW. Apparently the car was supposed to go to Gavan and Alan from the Killarney District Racing Club via Paul Ahern from Ahern's BMW (No Relation to Jeff) who ended up using an X5.  Sorry about that lads!
Paul Sharpe and Linda Browne knew exactly what they were doing when they provided us with the car. There were an estimated forty thousand people in Killarney for the event with thousand's packing the podium at the Gleneagle's. Furthermore the BMW took a prominent position at the Podium where the other cars passed by for their salutation. The Rally will be shown on 11th May on UTV and no doubt the Beemer will feature.  It was nice to see the Beemer in the middle of the Scooby's, C2's and Focus's.
It makes you wish the M3 was rallied again like when the late Bertie Fisher won in 1990. We drove the last three stages on the Sunday including Shanera where Tim McNulty's gear box failed and I have to say the BMW not only looked the part but handled like a dream. The BMW was one of the last cars to run out before the Rally cars themselves and as the crowds lined the route, one could hear the appreciation for the Beemer. However before the start of the Rockfield stage a middle aged woman who's husband was in the Rally commented that " …looks great but its probably only a 320D". To which I leaned out the window and stated that "we would have taken an M3 if it was offered", take note for next year Paul!
Our fun 3 Series is now back home safe and well with the lads in Automotive Team and although Richard has jumped back into a more powerful 3 Series, he misses the extra handling and the race set up. You know what to do Richard, see if Paul will do you a deal!