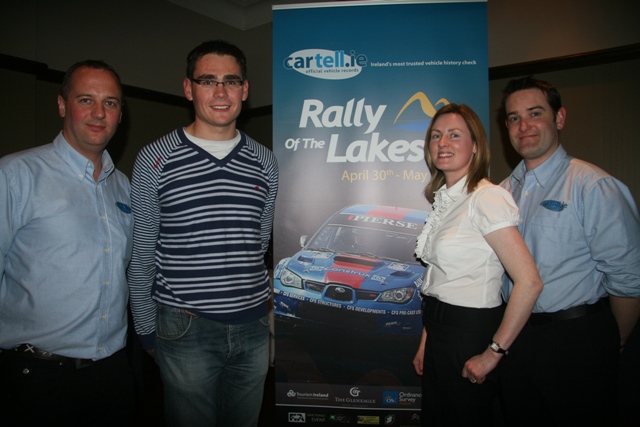 On Sunday 18 April 2010, Cartell.ie was invited to the official launch of the 2010 International Rally of the Lakes hosted by Killarney District Motor Club. The launch was held in The Brehon Hotel in Killarney, Co Kerry. There was a magnificent turnout and some of the rally cars on display included the Ahern's Subaru Impreza (no relation). Last years winner Tim Mc Nulty is first out this year followed by Gareth Mc Hale Focus WRC.
As the main title sponsor, I must extend my gratitude to all those at the event for making us feel welcome. I met Keith Cronin who at only 23 is the current British Rally Champion and according to Mayor Gleeson is a shinning example of what our fine country can produce.
The seeding for the event has been decided and there are over 130 entries, which in these economic times is a testament to the popularity of the event.
Cartell.ie has been given the opportunity to run out ahead of the cars during the rally when the roads have been closed. I drove the Molls Gap stage this morning and I can conclude that my VW GT won't be offered for the run out. The Molls Gap stage is on the Saturday night and the best time wins the Bertie Fisher Trophy. The legal limit on parts of that road is 100 Km/h but I can assure you that you need to be a good driver to navigate it. The view is spectacular down the few hundred feet from the road to the lakes. You need to keep your wits about you and I'm sure who ever set the limits must be running in the Rally.
I think, Brian Dennis in his Skoda will be asked to carry the flag for Cartell.ie in the run out. We wish all the best of luck to the competitors and wish them a successful and safe Rally. We would also like to thank our fellow sponsors OSI , and Board Failte and Ted O Connell for the excellent photos.