Recently the Leinster Branch of the RS owners club had a track day at Mondello Park International Racing Circuit. I joined the club as I am trying to get my hands on a 1992 Sapphire RS Cosworth. To make life even better Brian Dennis, a member of the club also brought his Rally spec Skoda Fabia VRS which www.cartell.ie sponsors. It is a 2003 1.9 TDI 130 bhp standard but has been up rated to circa 190 bhp. Brian and his co-driver Ger Geraty introduced me to the car and I went for a spin (not literally).
The Drive
The car is quick. From a standstill it must have hit 60 mph in less than 6 seconds. The grip is significant and the set up of the suspension allowed Brian to use the raised areas in the convex of the bends including the terra ferme for the best racing line. Some nutter had brought his 09 Focus RS for the day and the VRS kept up nicely
Specification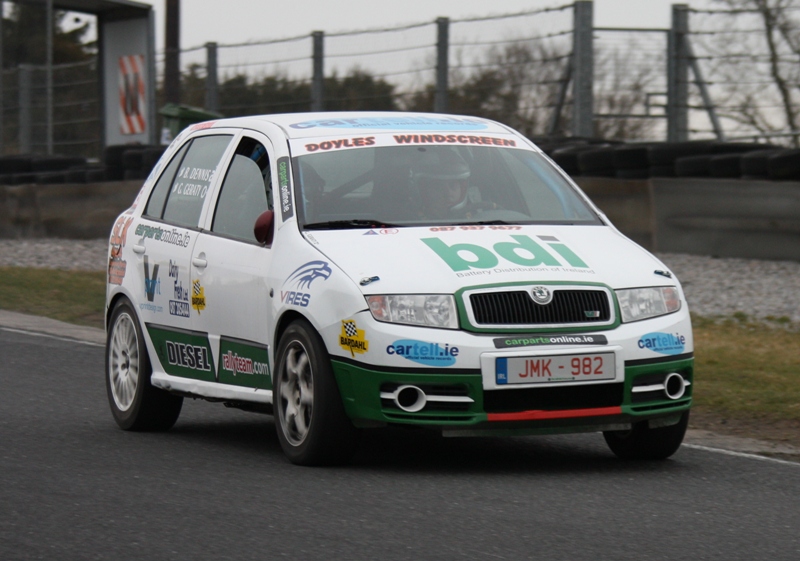 The VRS engine block is standard (which I must admit shocked me). The breathing system had been changed with a CDA induction system and the turbo (KKK) switched out for a Garrett .  An EGR by-pass valve has been fitted and there's a custom made exhaust starting at 2 ½ ince diameter expanding into a 3 inch and running straight through. There's a 6 speed close ratio Gearbox with lower final drive and Quaife Differential . The obligatory roll cage was fitted and of course no diesel would be bettered without the tuning box which Brian said he may "lend" to me.  The braking system adds a pedal box, braided hoses with 315mm front disks and four pot callipers with Mintex Racing Pads and a hydraulic hand brake. There's also a 3 way adjustable Proflex suspension system fitted. Furthermore the car is running on 16 inch Compomotive and OZ wheels.
Diesel Rally Team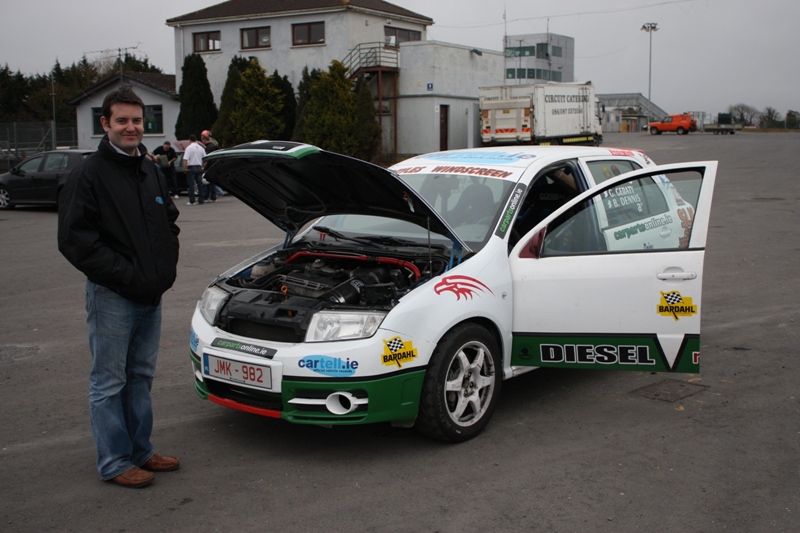 Brian Dennis set up the diesel rally team in 2006 and has competed in National and International Rallies both at home and abroad. This year the team plans to spend time further developing the car tweaking it to increase its performance. After successful outings last year, most notably in Killarney where the car finished 4th in the International Class Eight, the car showed how it can perform when at its limit. Brian believes however that there are more gains to be had from the car, a view also shared by Nicky Grist! Also Brian stated that "spending time now fine tuning will reap better performances from the car in the future. The plan is to run from July in the remaining rounds of the Midlands East Championship, with an eye on developing a schedule of events for 2011."
The team finished third in class eight of the drivers championship last year.
According to Brian "It is nice to develop a car that is different from other cars on the stages. When we finished the last stage in Killarney last year a few spectators came up to us and said it was the most interesting car they had seen all weekend."
For more rally information check out Cartell.ie Rally of the Lakes 2010